The End Of An Era: Blockbuster Video Closing All Remaning Stores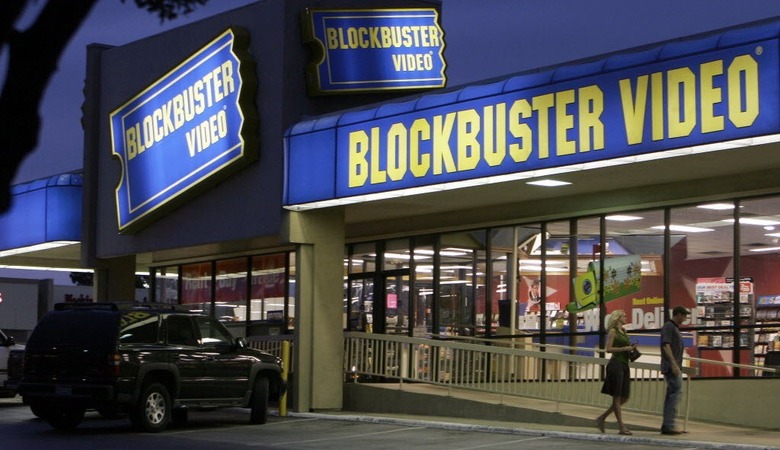 Blockbuster Video killed the mom and pop video store, and now technology has finally killed Blockbuster Video. After slowly but steadily closing down locations for the better part of a decade, the company announced Wednesday it is finally going to close the final 300 locations by early 2014, and discontinue its rental-by-mail system by the end of 2013. The brand will remain, however, offering movies digitally.
While a few indie stores will always endure, this more or less marks the official end of the video store era.
Dish Network owns Blockbuster, and released the following press release about the decision:
DISH Network Corporation DISH today announced that its subsidiary, Blockbuster L.L.C., will end its retail and by mail DVD distribution operations by early-January 2014. The company will close its approximately 300 remaining U.S.-based retail stores, as well as its distribution centers.
"This is not an easy decision, yet consumer demand is clearly moving to digital distribution of video entertainment," said Joseph P. Clayton, DISH president and chief executive officer. "Despite our closing of the physical distribution elements of the business, we continue to see value in the Blockbuster brand, and we expect to leverage that brand as we continue to expand our digital offerings."
The Blockbuster By Mail service will end mid-December and will serve existing customers until that time.
Over the past 18 months, Blockbuster has divested itself of assets in the United States, as well international assets, including operations in the United Kingdom and Scandinavia. DISH will continue to support Blockbuster's domestic and international franchise operations, relationships and agreements.
DISH will retain licensing rights to the Blockbuster brand, and key assets, including the company's significant video library. DISH will focus on delivering the Blockbuster @Home service to DISH customers, and on its transactional streaming service for the general market, Blockbuster On Demand.
The Blockbuster @Home service offers over 15 movie channels including STARZ(R) Cinema, EPIX(R), Sony Movie Channel, and Hallmark Movie Channel, plus over 20,000 movies and TV shows streamed to TVs, computers or iPads(R). The service includes access to the Blockbuster @Home 'app' currently available to the millions of TVs served by DISH's Hopper(R) Whole-Home HD DVR set-top box.
Available to anyone, Blockbuster On Demand is a transactional streaming video service offering thousands of movies viewable on connected devices including PCs, tablets, smartphones, Slingbox, Roku and select Samsung TVs and Blu-ray players. Consumers can learn more at www.blockbusternow.com.
While "Blockbuster" as a brand will survive on the Dish network, and as an on-demand option, with no more retail stores anywhere in the U.S., fans of a certain age can unfortunately close a major chapter in their lives. The chapter where, if you wanted to see a movie, you had to go and get it. The excitement of a film being on the shelf, the disappointment of it being checked out, the communal ritual of choosing a movie based on the box cover. No longer can we be kind and rewind.
As someone who worked at a mom and pop video story for a decade, Blockbuster was evil for a long time. But in recent years, its perseverance was lingering heartbeat of a once-beautiful era.