'Breaking Bad' Spinoff 'Better Call Saul' Might (Also) Be A Sequel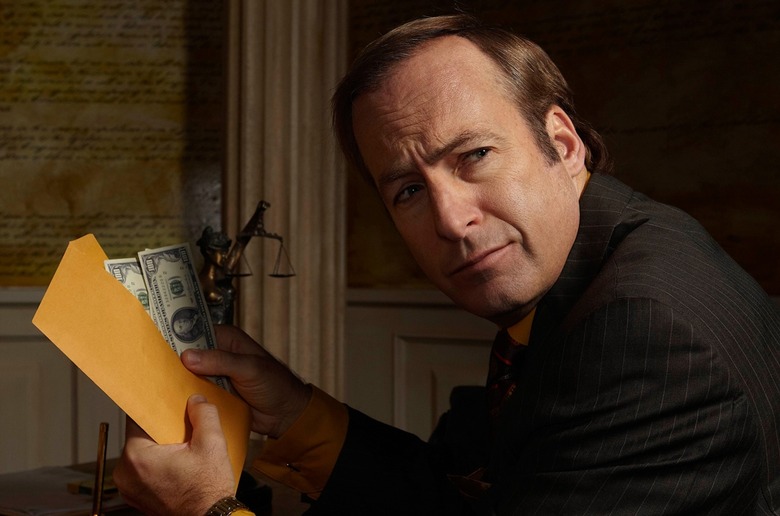 AMC was careful to specify that Better Call Saul would be a prequel when it first announced its plans for the spinoff series, but the ending of Breaking Bad left us wanting to know what happened after that grand finale. Luckily, Bob Odenkirk says there's a chance we could still find out.
According to him, Vince Gilligan and Peter Gould have also discussed the idea of doing Better Call Saul as a sequel, or perhaps a prequel/sequel hybrid. Hit the jump to read his comments. (Spoilers for Breaking Bad follow, duh.)
The idea of loud, obnoxious, flamboyant Saul trying to "manage a Cinnabon in Omaha," as he imagined it, seemes rife with comedy gold, so IGN asked the actor whether his new show might incorporate scenes from the character's post-"Granite State" life. Odenkirk acknowledged that it was a possibility.
Well, I've talked to Vince (Gilligan) and Peter (Gould), who are writing and creating the series, about this and I've said that a lot of people do want to see what happens to next to Saul. So, I don't know what they're going to do. I know they've talked about prequel, but they've also talked to me about sequel, and they've also talked to me about a mix of prequel and sequel.
AMC previously described Better Call Saul as centering on "the evolution of the Goodman character before he ever became Walter White's lawyer," but of course that was before we knew whether Saul would even live through the end of the season. Odenkirk's comments suggest that the decision hadn't actually been made at that point. Perhaps the network felt compelled to confirm that it'd be a prequel just to avoid dropping a potential spoiler.
Either way, Gilligan and Gould should be setting a course soon. "Well, supposedly the writers are starting up in two or three weeks, so they're trying to get that ready," said Odenkirk.
And while Gilligan has said that Breaking Bad stars Bryan Cranston and Aaron Paul could pop up from time to time, Odenkirk stressed that "this is its own thing." "Oh my God, I told Peter and Vince, right away I said, 'Look man, let us make this fresh for everyone,'" he said. "There might be a cameo here or there, but I don't know. We're going to do a new show."
Would you rather see pre-BB Saul, post-BB Saul, or both? Or neither?