History Channel Working On A 'Roots' Remake; Original Star LeVar Burton Responds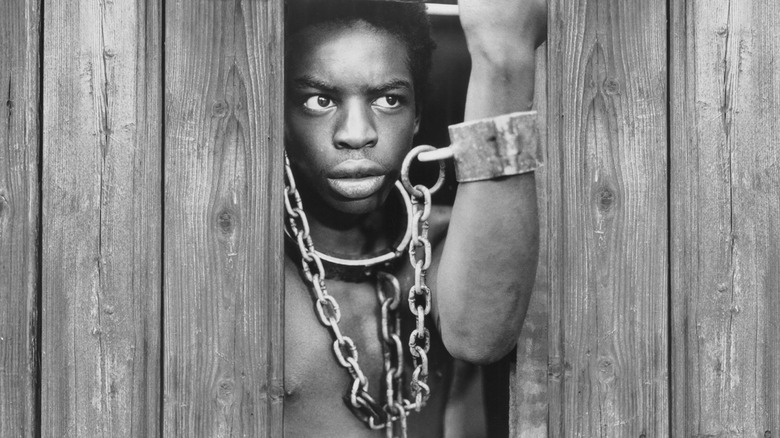 After taking on a legendary family feud and Depression-era outlaws — not to mention flirting with the Kennedy clan — the History network is ready to take on one of the most painful chapters of America's past with its next miniseries.
The channel is working on a remake of Roots, the iconic 1977 miniseries based on the novel by Alex Haley. Hit the jump for all the details, and to find out what the original Kinta Kunte, LeVar Burton, thinks of all this.
"We would like to revive that cultural icon for a new audience," explained History EVP and GM Dirk Hoogstra. The next step for the network will be to find writers who can adapt the classic tale with a contemporary perspective.
Whoever signs on will have their work cut out for them. The '70s miniseries is one of the most celebrated TV shows of all time, earning one Golden Globe and nine Emmy wins out of a record-breaking 37 nominations.
General audiences were also impressed; 100 million tuned in for the last of eight episodes. It even remains popular today. Last year, BET's 35th anniversary airing attracted 4 million viewers for the first two parts.
The news comes right as Oscar hopeful 12 Years a Slave cements slavery as a hot topic in current pop culture. Between it and The Butler, plus last year's Lincoln and Django Unchained, it's clear that the dark subject is striking a chord with American viewers at the moment.
While Burton is not involved with the new version (at least not yet), he seemed to approve when asked about the remake in a recent interview with New York Magazine:
At the screening of 12 Years a Slave, no less a personage than Russell Simmons told me that Roots was being remade. And my initial reaction was, Why? But, look, the bottom line for me is, if one soul is moved irrevocably toward the side of humanity, then it's worth it. Human beings are the laziest creatures in the history of creation. We would rather not do anything if we could avoid it. But social justice requires rolling up your sleeves and getting your hands dirty. And I think moments like Roots and 12 Years a Slave are opportunities for art as a cultural force to step forward and lead the way. What we do with it is up to us.
Well put, Geordi.