Bruce Campbell Now Says 'Army Of Darkness 2' Is Not Real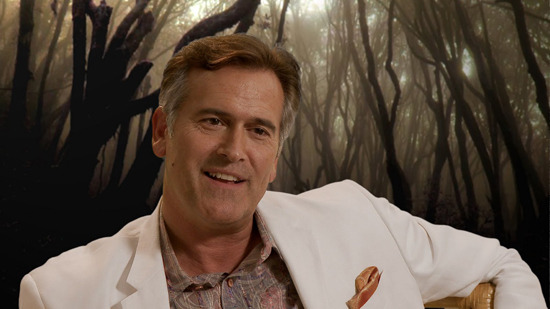 Sorry fans. No matter what Bruce Campbell says, Bruce Campbell says don't get too excited about Army of Darkness 2. After the actor was recently quoted saying "Yes," the film will happen, he has now backtracked on that. Campbell now says despite the "random comments" that slip out of his mouth sometimes, the film is not a reality until we hear something from the production company, it's given a release date or a start date. And, as of yet, none of that has happened.
He also doesn't seem too hopeful about a sequel to this year's Evil Dead remake, talking about how director Fede Alvarez (himself a subject of uncertainty regarding the franchise) has moved on to other things.
Listen to Campbell's quotes below.
Shock Till You Drop ran the following video interview.
Campbell is right, of course. The internet is full of misinformation. But it doesn't help when the star and producer of this movie tells someone in public, and on the record, the film is happening. These above quotes are basically him saying, "Don't trust anything I say, only trust press releases." Of course he wants to appease fans at conventions and get them to cheer, but if the film really isn't going to happen, he shouldn't say so. He has said so, and he's not the only one, so while it might not be something that's in the immediate pike, I still think fans can expect to see a movie at some point in the future.
Follow the whole Evil Dead 2/Army of Darkness 2 saga with our past coverage here and here. What do you think?