Samuel L. Jackson Joins '1408' Co-Star John Cusack In Stephen King's 'Cell'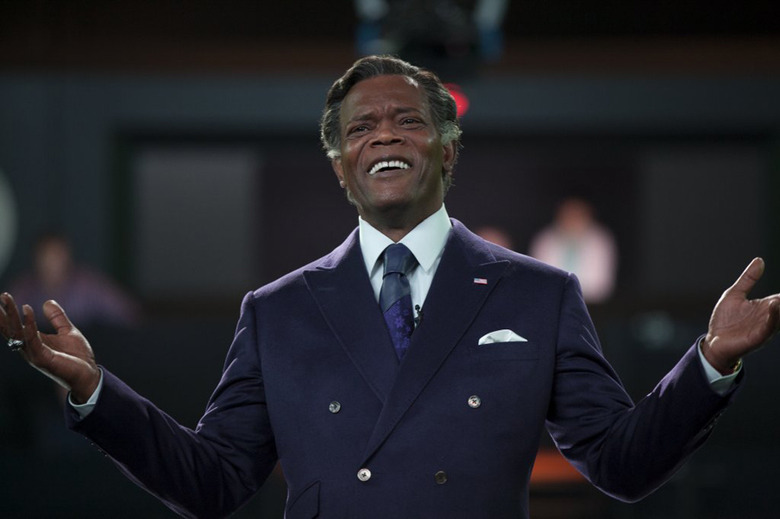 John Cusack and Samuel L. Jackson are following up 2007's 1408 with another Stephen King thriller. Jackson has just signed on to star with Cusack in Cell, not to be confused with 2000's The Cell. This one centers on the idea that cell phones can kill you, and we don't mean via brain cancer. Hit the jump for the latest details on this project.
Published in 2006, King's Cell depicts a horrifying apocalypse in which a mysterious cell phone signal has spread like a virus through the human population, turning them into vicious monsters. Cusack will play Clay Riddell, a New England artist trying to reunite with his son as the world goes to hell. Variety reports that Jackson will portray Tom McCourt, an engineer and former soldier who joins Clay in his attempt to flee Boston.
Cell has been kicking around for a few years already. Eli Roth was attached to direct at one point, but the project stalled when he left. It was then set up as a possible miniseries with John Harrison writing, but eventually it morphed back into a movie. King himself wrote the new film's script with Adam Alleca (Last House on the Left), and Cusack signed on last year. Tod "Kip" Williams (Paranormal Activity 2) is directing.
Jackson is coming off of Django Unchained and Turbo, and has two remakes scheduled for the near future, Oldboy and RoboCop. Additionally, he'll continue to hold the MCU together as eyepatched badass Nick Fury. The character recently cropped up in ABC's Marvel's Agents of S.H.I.E.L.D. and will resurface in next year's Captain America: The Winter Soldier.
Cell is expected to shoot in January. No distributor or release date has been set.