First Image From 'Sherlock' Season Three: Nighthawks At The Diner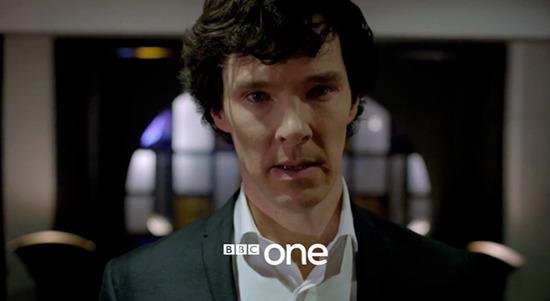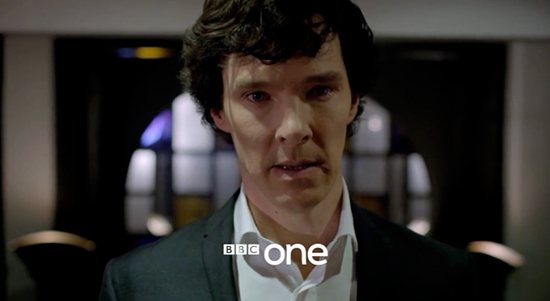 We've known that the first episode of the third season of Sherlock, starring Benedict Cumberbatch and Martin Freeman, would deal with the fact that no one around Sherlock yet knows that he survived the end of season two. That's enough to give us a general idea of what's in store from at least some of the premiere when it airs on Sunday, January 19th on PBS, and a first teaser trailer has given us a good peek, too.
Now BBCOne has released a new image that has a bit of Edward Hopper's 'Nighthawks' in it. Check out that pic below.
This is via Bleeding Cool, along with the following info:
With anticipation building around the return of Sherlock, BBC One has today released the first official picture of the new series.
The question on everyone's lips will finally be answered when Sherlock returns with three brand-new action-packed adventures. How did he do it? And how will John take the news that his best friend faked his own death? What will Sherlock think when he finds out John has fallen in love with Mary Morstan? She's sensible, quick-witted and not at all taken in by Sherlock's posturing. Once again, the game is on for Sherlock and John in the first episode of the new series, The Empty Hearse written by Mark Gatiss.
Speaking about the return of the series, executive producer, writer and co-creator Steven Moffat said: "It's been a long time since Sherlock Holmes jumped off that roof – it's time to reveal the truth about what happened between him and the pavement."
Executive producer, writer and co-creator Mark Gatiss added: "Sherlock and John Watson are back at last! And they're just where we want them – on the streets of London having mad, thrilling adventures."
Sherlock is written and created by Steven Moffat and Mark Gatiss, and inspired by the works of Sir Arthur Conan Doyle. Sherlock is produced by Sue Vertue and the executive producers are Beryl Vertue, Mark Gatiss and Steven Moffat for Hartswood Films, Bethan Jones for the BBC and Rebecca Eaton for Masterpiece.
The drama was commissioned by Danny Cohen, former Controller of BBC One (now Director of BBC Television) and Ben Stephenson Controller, Drama Commissioning, BBC.