'A Case Of You' Trailer: Peter Dinklage Steals The Show With One Word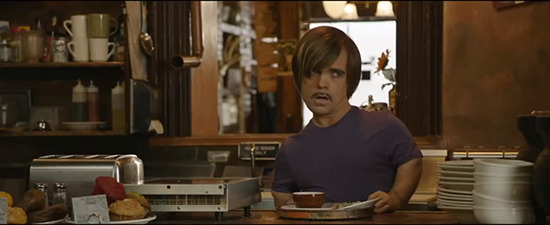 The possibilities of online dating leads to a plausible romcom plot possibility: what if a guy liked a girl so much that he just reworked his own personality to match the details of her online profile? It's basically Catfish, but softer. And so A Case of You stars Justin Long as the guy who gets into trouble when the girl he wants (Evan Rachel Wood) believes the personality he crafts from nothing, and then has to follow through.
But the important part is Peter Dinklage, who seems to be on hand as a barista who offers some simple word choice advice to Long's character. He's the highlight of the trailer you'll find below.
After all that, it doesn't look like Dinklage is in the movie for more than a scene or two, which is too bad, because the rest of it looks quite bland. He's not the only big-name cameo in the film, and most of the others aren't shown (obviously) in the trailer. You can read the full synopsis below for that info if you want to be spoiled, or to have a reason to check out the film.
Young writer Sam has a crush on Birdie, the cute and quirky barista at his local coffee shop. When his conventional attempts to woo her crash and burn, he takes his efforts online, creating an Internet profile embellished with all of the details that would make him Birdie's dream guy: ballroom dancing, rock climbing, a seemingly endless, escalating series of wacky and unlikely hobbies. When the harebrained scheme is a surprise success and Birdie falls for his exaggerated alter ego, Sam must keep up the act or lose his dream girl forever.
Written by and starring Justin Long and directed by TFF alumna Kat Coiro, this sweet and fun rom-com presents a clever take on what happens when romance goes online and how two people can really connect in an increasingly "connected" world. With charming chemistry between Long and co-star Evan Rachel Wood, as well as a hilarious ensemble of cameo performers including Peter Dinklage, Sam Rockwell, Vince Vaughn, Brendan Fraser and Sienna Miller, A Case of You is a winning comedy for the social media age.