/Film Visited The Set Of '47 Ronin' In 2011; Watch Our Video Blog Report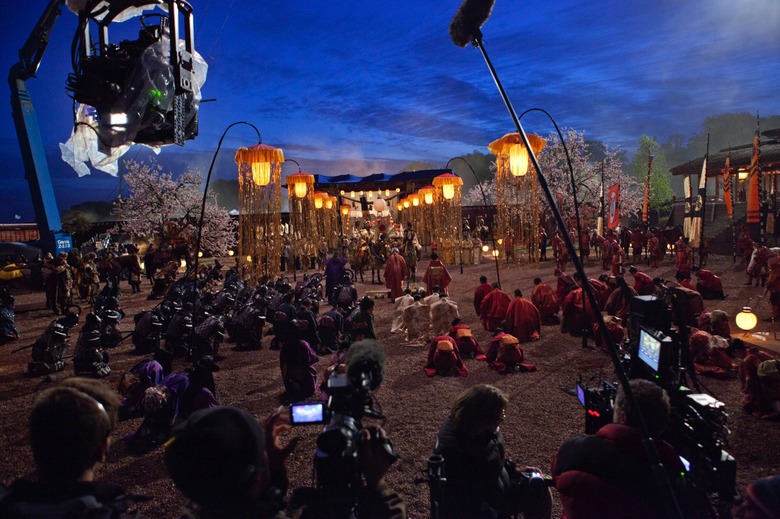 In 2011, I traveled to London to visit the set of director Carl Erik Rinsch's big screen adaptation of 47 Ronin. The 47 Ronin story is not something I would have expected a Hollywood movie studio to tackle. While Rinsch is bringing a super-stylized fantasy-infused vision to this classic Japanese tale, some of which makes it look more like a studio film, it still stays true to the original story. That may have resulted in marketing challenges, and has likely lead to challenging test screening responses. Reshoots and rumblings of studio unhappiness aside, I have to admit three things:
I still think the trailers for this film look very promising.
I've been a fan of Carl Erik Rinsch's commercial work for years now, and am excited to see what he will do with a feature length movie.
We were very impressed with what we had seen on the set at Shepperton Studios.
Hit the jump to watch a video blog I recorded after the visit, and find out more about what we saw and learned while on set.
Our visit to set happened in June of 2011 —  almost two and a half years ago. The film's release date has since been pushed back twice. (It was originally set to hit theaters on November 21st, 2012, then was pushed to February 8th, 2013, and again to Christmas Day 2013.) Out of all the set visits I've ever covered, this is by far the longest lead time between going on a set visit and our coverage actually being published.
This leads me to a bit of bad news: I had written a first draft of this set visit on my flight home from London. Not only can I not locate that file, but I also am unable to find my hand-written notes from the set visit. This is the first time this has ever happened in the decade I've been writing about movies.
The good news is that I recorded a extensive video blog reaction after the visit with my usual cohort Frosty from Collider. So after the jump, you can watch our extensive video blog report, and separately on the site you'll be able to read some of our interviews with the cast and crew, starting today with our on set roundtable interview with director Carl Erik Rinsch. We'll also be posting more set visit interviews as the week goes on.
You can hear our June 2011 reaction to visiting the set, our thoughts on what we saw, in the video blog below: