Rumor: Chiwetel Ejiofor Up For 'Star Wars Episode VII' [UPDATED]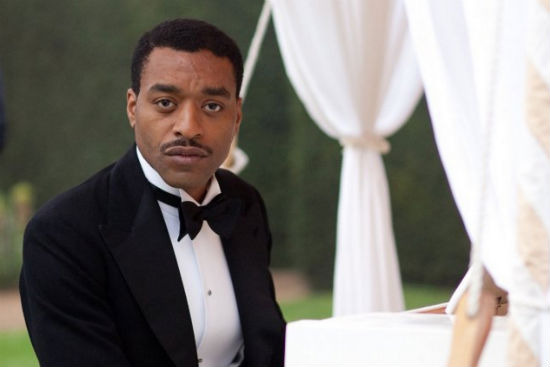 Update: There's now video of Ejiofor answering a question about Star Wars. See it below.
Imagine being a journalist, landing an interview with J.J. Abrams about his new book (which means you can't really talk about Star Wars Episode VII too much), then haphazardly running into a potential Oscar winner in Abrams' office. Exclusive scoop!
That's what happened to UK newspaper reporter Rhys Blakely, who writes for The Times. He walked into the Bad Robot office to speak with Abrams about S and found Chiwetel Ejiofor waiting there. Does that mean Ejiofor, considered a potential Oscar-contender for 12 Years A Slave, is in Star Wars Episode VII? Not necessarily, but it's certainly possible. 
The revelation came from the beginning of an article in The Times (via JediNews) that says the following:
The Lost and Star Trek director thrives on mystery and surprises – which pits him against the Hollywood hype machine. Can he keep his plans for the most famous sci-fi franchise of them all under wraps?
The British actor Chiwetel Ejiofor, front-runner in this year's Oscar race, is sitting in the lobby of J.?J. Abrams' office. If you're a sci-fi fan, this might be very big news indeed.
I'm here to talk with Abrams about a side project – a book, called S., of which more later. But, really, if we're honest, there's only one thing any showbiz hack wants to know from J.?J. right now: the skinny on Star Wars Episode VII, which he's going to direct.
Unfortunately, the rest of the article is subscription based, meaning we can't read Abrams' comment to Blakely about the actor. Or can we? Bleeding Cool found the full article and when Blakely asked Abrams about it, he said the following:
He looks at me, dead-eyed. "I can't discuss casting," he says. "But he's a very talented gentleman."
Not a confirmation, not a denial, but Ejiofor is so hot right now coming off 12 Years a Slave, I can't imagine another Bad Robot project (that's casting) he might be there to discuss. (Mission Impossible 5 or Star Trek 3? Maybe, but less likely.) It seems like the Serenity, American Gangster, Children of Men and Love Actually actor could be one with the Force.
What do you think?
UPDATE – Flicks and the City asked Ejiofor about this story Sunday on the red carpet for 12 Years a Slave. Thanks to Comic Book Movie. It's at the end of this clip.