Jake Gyllenhaal May Replace Eminem In Boxing Drama 'Southpaw'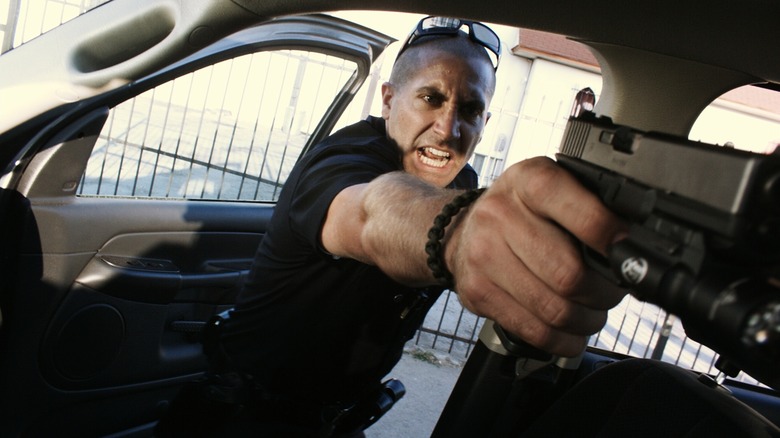 There aren't many situations in which Jake Gyllenhaal would seem like an appropriate replacement for Eminem, but Antoine Fuqua's Southpaw could turn out to be one of them. Gyllenhaal has entered talks to take the lead in the boxing drama, which had Eminem attached a few years back. Hit the jump for more on the movie's plot and history.
The project was originally set up at DreamWorks, which hired Sutter to write, Fuqua to helm, and Eminem to star. Then the studio ditched the project in 2011, leaving it to find a new home at MGM... which also eventually decided to drop it. It's now set up at The Weinstein Company, which is producing with Riche Productions.
While Sutter and Fuqua have remained on board, Eminem stepped out of the lead role somewhere along the way. As of earlier this year, Fuqua was said to be considering Bradley Cooper, Jeremy Renner, and Ryan Gosling.
Given that none of those picks worked out, Gyllenhaal seems like a solid choice. True, he's not as white-hot as Cooper, Renner, or Gosling, nor as unusual a choice as Eminem. (The semi-autobiographical 8 Mile remains the only feature film credit on the rapper's resume.)
He is, however, an experienced talent coming off of one of the strongest streaks of his career with Source Code, End of Watch, and Prisoners. His upcoming films include Enemy, which reunites him with Prisoners helmer Denis Villeneuve, the crime drama Nightcrawler, and Baltasar Kormákur's star-studded Everest.
Fuqua's last release was the Die Hard-esque thriller Olympus Has Fallen, which has a London-set sequel brewing at Millennium Films. He recently wrapped The Equalizer with Denzel Washington, Chloë Grace Moretz, and Melissa Leo. Southpaw is expected to shoot next year.
[Source: TheWrap]