Preview The 'Django Unchained' Hardcover Comic Collection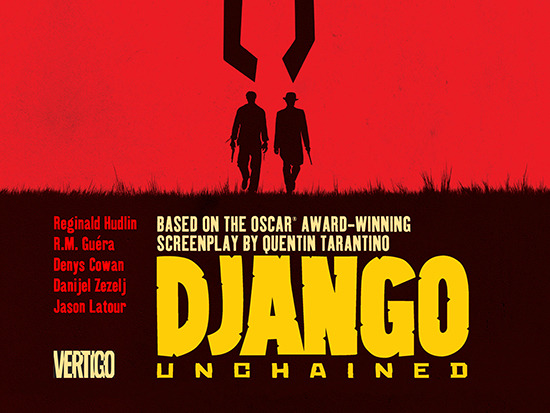 Quentin Tarantino's original screenplay for Django Unchained was adapted into comic book form over the past year, presenting realizations of scenes that didn't end up in the final film. The screenplay was adapted by producer Reginald Hudlin and drawn by R.M. Guera (SCALPED), Jason Latour, Denys Cowan and Danijel Zezelj.
For those who like to wait to pick up one volume rather than several, the hardcover collection is hitting next week. Check out Tarantino's list of fave western comics below, along with a few pages from the collection.
Tarantino said in the forward to the adaptation,
Not only do I love comic books, I especially love Western comic books. Growing up, I read the adventures of Kid Colt Outlaw, TOMAHAWK, The Rawhide Kid, BAT LASH, and especially, Yang (which was basically the "Kung Fu" TV show done as a comic), and Gunhawks featuring Reno Jones (a Jim Brown stand-in) and Kid Cassidy (a David Cassidy stand-in), which for my money was the greatest Blaxploitation Western ever made. Not to mention the Gold Key comics of popular Western movies and TV shows (the class acts of that bunch are the comic version of Delmer Daves' "Drum Beat" and Howard Hawks "Rio Bravo"). And it's in that spirit of cinematic comics literature that I present to you DJANGO UNCHAINED.
The Django Unchained collection is in comic book stores on November 6 and bookstores everywhere November 12.