Ron Howard Tweets 'Heart Of The Sea' Set Photos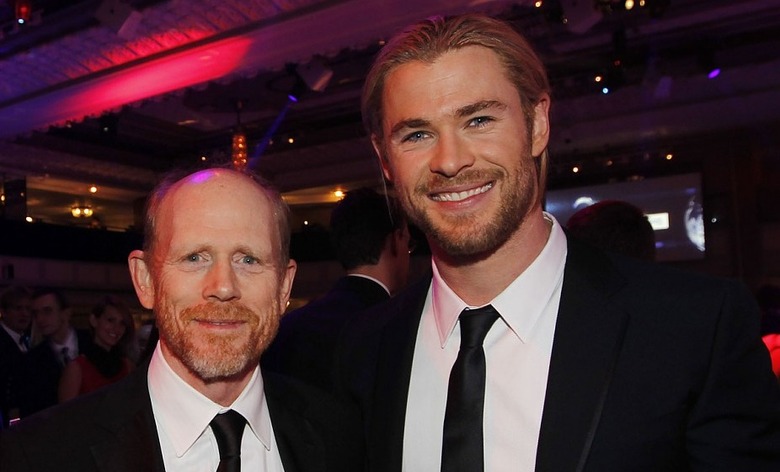 One of the unwritten rules of filmmaking is shooting on water is a death sentence. The stories of troubled water-based productions are legendary: Steven Spielberg's Jaws, Kevin Reynolds's Waterworld, James Cameron's Titanic. It seems, though, in recent years production crews have more or less figured out how to do it. For example, Ron Howard tweeted some very cool images from the set of his upcoming film, Heart of the Sea, starring Chris Hemsworth, Benjamin Walker, Cillian Murphy and Ben Whishaw. In them we see the evolution of a water tank shot that leaves everyone drenched.
All these images come from @RealRonHoward on Twitter.
Our last day on out interior tank – Heart of the Sea. Here is 1st of a series of pix pic.twitter.com/xqWgXEGaP2

— Ron Howard (@RealRonHoward) October 30, 2013
2nd pic in series – things are getting serious pic.twitter.com/QVdkfFFtfz

— Ron Howard (@RealRonHoward) October 30, 2013
They're about to experience some moisture pic.twitter.com/UdYPKPzMND

— Ron Howard (@RealRonHoward) October 30, 2013
And then one more for safety:
We are shooting a scene that does not involve boats or dump tanks today pic.twitter.com/5m3Fs8tj1I

— Ron Howard (@RealRonHoward) October 31, 2013
Howard says today, October 31, is their last day shooting on an interior tank. Filming began September 10 so that's a whole lot of water shooting.
Click here to read the press release on Heart of the Sea, which will likely be out Fall 2014. Here's a plot description.
In the winter of 1820, the New England whaling ship Essex was assaulted by something no one could believe: a whale of mammoth size and will, and an almost human sense of vengeance. The real-life maritime disaster would inspire Melville's Moby-Dick. But that told only half the story. "Heart of the Sea" reveals the encounter's harrowing aftermath, as the ship's surviving crew is pushed to their limits and forced to do the unthinkable to stay alive. Braving storms, starvation, panic and despair, the men will call into question their deepest beliefs, from the value of their lives to the morality of their trade, as their captain searches for direction on the open sea and his first mate still seeks to bring the great whale down.