'Heavenly Sword' Game Adaption Releasing In 2014; Watch The Teaser Now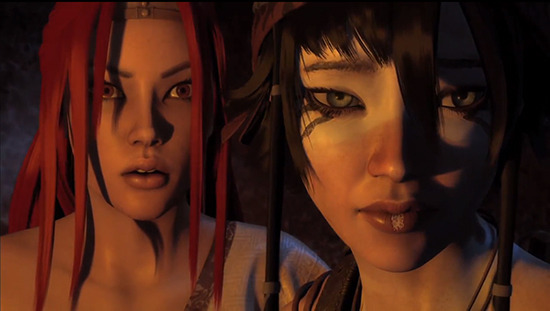 Just in time for the debut of the PlayStation4, we've got a trailer for the CG animated film adaptation of a game that launched six years ago in the first year of the PlayStation3. The title is Heavenly Sword, and the film began as a trial development between Sony and Blockade Entertainment. The feature started to make noise at Cannes this year, and at the American Film Market it secured distribution for 2014.
The film features the voices of Anna Torv, as heroine Nariko, Alfred Molina as King Bohan, and Thomas Jane as Loki. Watch the trailer below.
The animation here is no great shakes, and with that total reliance on voiceover, there's not much that is actually cinematic about this teaser. I wouldn't think it was for anything other than a new game if I hadn't been told otherwise.
Heavenly Sword will open in Spring 2014.
Heavenly Sword is a dramatic tale of revenge that sees Nariko (Anna Torv), a fiery red-haired heroine, embark on a quest for vengeance against the invading King Bohan (Alfred Molina) and his army. Once considered the failure of a legendary prophesy, Nariko must wield a sword that was ultimately meant for another. This ancient Heavenly Sword, once belonging to a powerful deity, can never be wielded by a mortal without it slowly but inevitably killing them. For Nariko it is a race against time to avenge her clan before her life is irreparably overtaken by the omnipotent Heavenly Sword.