Sequel Bits: 'Bill & Ted 3', 'Trick 'R Treat 2', 'Expendables 3', 'Anchorman 2', 'Sin City 2'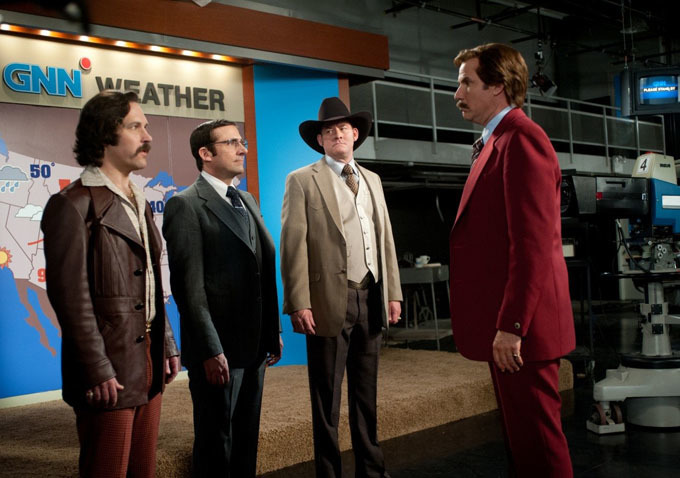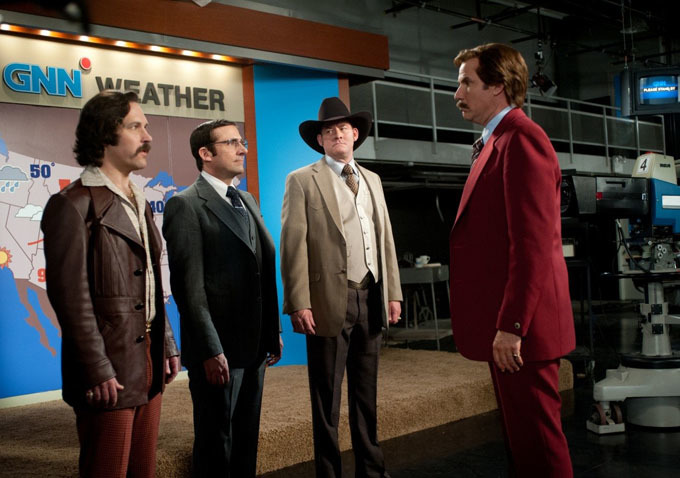 Guess who's dropping by Conan next month? Here's a hint: He looks a lot like Will Ferrell. Also after the jump:
Keanu Reeves has "no idea" if Bill & Ted 3 will ever happen
Michael Bay talks Transformers 4: "There was a lot of dynamite"
The Best Exotic Marigold Hotel 2 will shoot early next year
Harrison Ford explains what he's doing in The Expendables 3
Trick 'r Treat director reveals what he wants in the sequel
That is, if it ever gets made. Reeves laughed when asked whether the movie would ever actually see the light of day. "I have no idea. It all has to do with budget, and how can we do it. But some people are thinking about it." [The Playlist]
Despite some high-profile mishaps on the Hong Kong set of Transformers: Age of Extinction, Michael Bay said he'd love to shoot there again. "Hong Kong is a very visual city," he said while chatting with the South China Morning Post. Producer Lorenzo di Bonaventura chimed in, "We met 1,000 people and there were three idiots," he said.
And he has no intention of obliterating the city in the film. "We are not destroying Hong Kong," he stated. The Autobots, he explained vaguely, "are not rescuing Hong Kong but definitely rescuing something."
That said, this is still a Michael Bay movie, so it's safe to expect some firepower. The filmmaker indicated that about 30-35 minutes of the roughly two-hour film will take place in China, including an explosive scene set in Hong Kong but shot in Detroit. "There was a lot of dynamite," he recalled. Transformers: Age of Extinction opens June 27, 2014. [via TFW2005]
It's been some time since we heard about the Best Exotic Marigold Hotel sequel, but not only is it in the works, it's set to shoot in a few months with most of the original cast intact.
"We had a wonderful time shooting this film the first time and I am thrilled we will be going back in January to do another one," said Penelope Wilton, who played Jean in the 2011 movie. "As far as I know everybody will be returning." According to Radio Times, that includes actors Judi Dench, Bill Nighy, Maggie Smith, Ronald Pickup, and Celia Imrie as well as writer Ol Parker, who scripted the last film. [via Moviefone]
Over the summer, The Expendables franchise added Harrison Ford to its growing stable of '80s action heroes for the third installment. In a recent interview, Ford explained just how his character Max Drummer would fit into the gang.
I'm playing a character that is an authority figure. He creates an assignment. He manages the Expendables, and he has an interesting relationship to the character Sylvester Stallone plays. While I am involved a little bit in the action, not so much. It's an interesting character, and I didn't actually know Sylvester before. It was fun.
The Expendables 3 opens August 15, 2014. [MovieWeb]
Some on-camera talents despise the promotional aspect of movie-making, but not Ron Burgundy. Guy loves to chat about himself, so he's heading to Conan to do just that. The TBS show has booked Burgundy (played, of course, by Will Ferrell) as a guest on its November 21 episode.
Burgundy's appearance was set up to promote his new book Let Me Off at the Top!: My Classy Life and Other Musings, due to hit shelves November 18, as well as his upcoming movie Anchorman 2: The Legend Continues, scheduled to open December 20. The film was originally announced during Burgundy's last appearance on the show, March 2012. [Variety]
Writer-director Michael Dougherty hasn't disclosed too many specifics about the Trick 'r Treat sequel since he announced it earlier this week, but shortly (like, hours) before that big reveal he spoke in vague terms about what he might want to put in a sequel.
Yeah, there's a long list of Halloween icons that we haven't gotten around to yet. You know, I wanted to have a story set in a pumpkin patch, and didn't get to do it, or cornfields. Witches, ghosts, the list goes on and on of things that are really iconic for the holiday, but we could only fit so much in the first film, so if we're lucky enough to get a second film, maybe we can start to expand that a little bit.
It's funny to read that now and realize that he's purposefully playing coy. Later on in the same talk, he added that "eventually I'll sit down with Sam again and we'll plot out another adventure," as if one weren't in the works already. [Badass Digest]
Nearly a decade passed between the first Sin City and its sequel, but Greg Nicotero's enthusiasm for the movies has not waned. The makeup whiz had nothing but nice things to say when asked about working on Sin City: A Dame to Kill For.
It was nine years. It was great! We got to do Mickey Rourke's Marv make-up again. Bruce Willis was there. Doing the first Sin City was a really fun experience. We spent four months shooting on green screen. Robert [Rodriguez] really was not only one of the first guys to do a 3D movie in recent years, when he did Spy Kids 3D, but he created that green screen world for Sin City. Robert is a maverick filmmaker. It was exciting for us to be able to go back and get a second chance to do that kind of movie again. It was so much fun! We had a great time. It was cool to see new cast members come in, and it was fun to have people like Mickey, who we loved working with and loved doing his make-up. It was great! It was really a blast. I'm dying to see the movie. Robert keeps offering to show it to me, but I don't want to see it with the green screen. I don't want to see it until it's finished. I want to go in and experience it as the rest of the world will experience it.
If Nicotero really is waiting to see it "as the rest of the world will experience," he and we can catch the film when it opens August 22, 2014