Five-Minute 'Captain America: The Winter Soldier' Preview Will Play With 'Thor: The Dark World' In 3D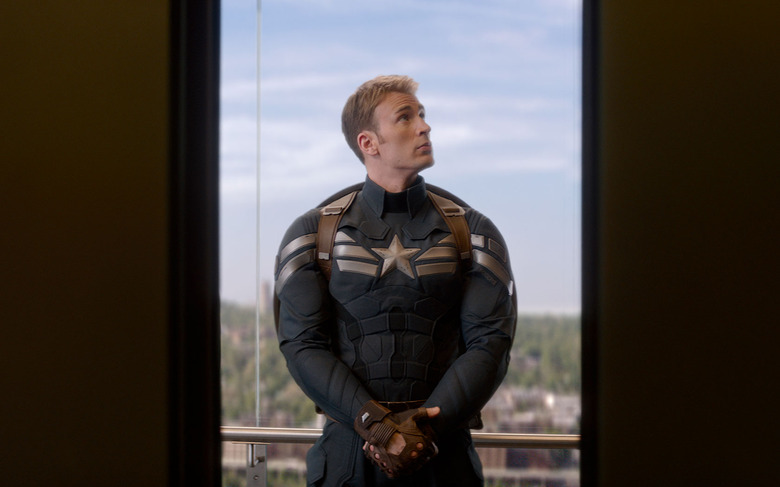 Having seen and really enjoyed Thor: The Dark World, I can safely say I don't remember one single 3D element. And I saw it in 3D. The glasses didn't hurt or enhance the experience, and maybe Marvel knows that. So to get fans to pony up the extra few bucks for the 3D screenings of the film, out November 8, they're attaching a five minute preview of next year's Captain America: The Winter Soldier to 3D screenings only.
Fandango revealed the news of the five minute tease on 3D Thor screenings. Here's a quote from Disney EVP of Theatrical Distribution, Dave Hollis:
After Marvel's The Avengers, the Marvel films are more interwoven than ever, and this pairing is the perfect complement to both of the new movies. Thor: The Dark World is going to be an exceptional theatergoing experience, and this sneak peek will really rev fans up for the return of not only the Mighty Avenger but the First Avenger as well.
I totally get this from a pure marketing standpoint, but I'm very curious to see how it plays out in theaters. One would assume this would be in place of the theatrical trailer (running both would be super confusing) but wouldn't it be even cooler at the end of the credits? With two post credits scenes in Thor already, it's unlikely. But amping up audiences for Captain America, and then giving them Thor is almost like having a craving for hamburger and eating pizza instead. Both are good, but one doesn't quite deliver like the other.
Either way, as a Marvel fanboy they've just sold another 3D ticket here. What about you?
Thor: The Dark World is out November 8. Captain America: The Winter Soldier is out April 4, 2014.