Fede Alvarez Still Attached To 'Evil Dead 2' But First Priority Is 'Army Of Darkness 2' [UPDATED]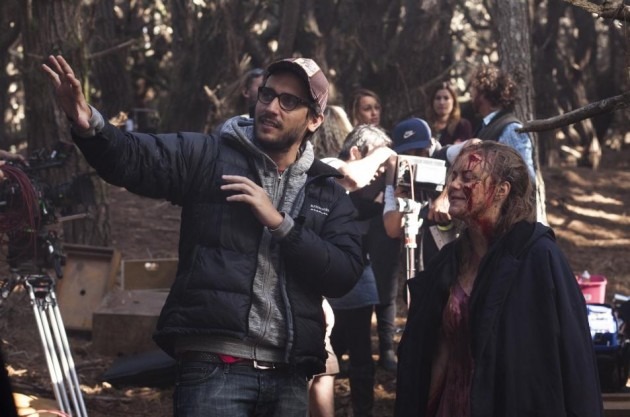 UPDATE: Unsurprisingly, Fede Alvarez said the below quotes were "lost in translation" and he still is attached to the film. The original story follows with the update at the bottom.
This year's release of the Evil Dead remake breathed new life into a revered, but seemingly complete franchise. Suddenly, star Bruce Campbell and director turned producer Sam Raimi were talking about new sequels and Fede Alvarez, who directed the bloody remake, was planning his own sequel that would dovetail with what came before. Evil Dead fans were in speculation heaven as it seemed likely Ash would meet Mia at a cabin in the woods.
Months have passed though and while the original camp, Campbell and Raimi, are still adamant their sequel – Army of Darkness 2 – is happening, the other film might not. Rodo Sayagues, co-writer of this year's Evil Dead, now says he and Alvarez left the sequel months ago.
The quote came from Gorosito.TV (via Shock Till You Drop). Here's Sayagues:
Look, I am sorry to tell you this but that movie won't happen. Evil Dead 2 is not going to happen, at least not with us involved. We left that project many months ago because we preferred to put our energies on other things. I don't know if the producers still have intentions of making it. But what I can tell you is that we are not part of that project.
Apparently, much has changed since March when Alvarez seemed pretty gung-ho to write the script for a follow up. However, over the last few months the director has been attached to numerous non-Evil Dead projects, probably softening the blow for fans. It's almost as if we all knew this was coming.
Still, with Alvarez saying Raimi will direct Army of Darkness 2, maybe that will come first and another director will direct a remake sequel. Or maybe the remake sequel will end up as the spark that lit Raimi's fire. We'll surely find out in the coming months.
Do you think a remake sequel will work without Alvarez? Was he the man who made that film work? Do you actually think it worked?
UPDATE: Bloody Disgusting got in touch with Alvarez who said his writer's quote was "lost in translation" and added "Rodo meant we're not actually making 'Evil Dead 2' right now because the priority is Sam's 'Army of Darkness 2.' But the plan of making a sequel to our 'Evil Dead' is very much alive."
So it seems like they'll be making Evil Dead 2, but not until Raimi and Campbell make Army of Darkness 2. So that's good news, right?