Jonás Cuarón Discusses His 'Gravity' Companion Short 'Aningaaq'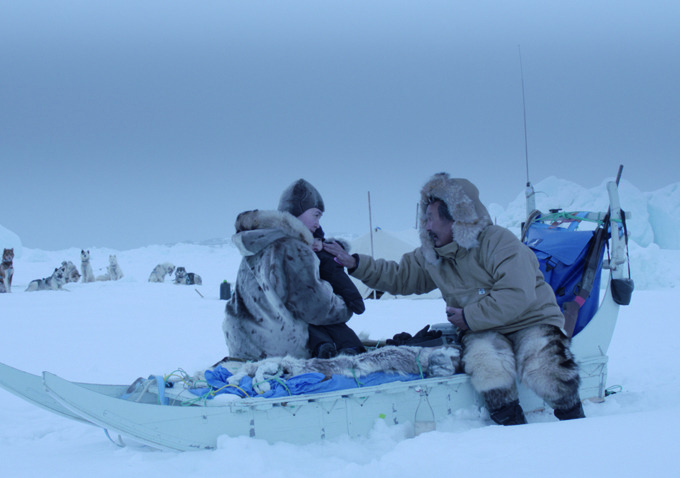 (Note: Spoilers for Gravity follow.)
Alfonso Cuarón's Gravity doesn't really need extra frills to make it better, but a companion short film directed by Cuarón's son and co-writer Jonás Cuarón could enhance the experience all the same. "Aningaaq" revisits a key scene from the feature in which Ryan Stone (Sandra Bullock) happens to make contact with someone on Earth — only from the perspective of the Inuit fisherman (played by Orto Ignatiussen) on the other side.
The short didn't play in front of U.S. screenings of Gravity, unfortunately, but it could get some added attention as the Oscar race heats up for both it and Gravity. In a recent interview, the Cuaróns took the time to explain "Aningaaq," and how it came about. Hit the jump to see what they had to say.
Jonás explained that the separation between them was a very deliberate choice on the filmmakers' part. "Gravity is a movie about a character who is literally and metaphorically disconnected," he said. "She's shut herself down as a person even before the action starts. We liked this idea that finally she gets in touch with someone on Earth and it's this guy who not only does not speak a word of English but is drunk."
The pair briefly considered cutting between Ryan and Aningaaq during that scene in Gravity, but ultimately decided to keep the focus on her. "We were adamant that we wanted to stay in the point of view of Ryan, never cut back to Earth or Houston, nothing," said Alfonso. "We said, 'We have to stick to the plan, but wouldn't it be cool to do a short about Aningaaq?'"
The idea for "Aningaaq" came about after Alfonso took a trip to Greenland. Jonás secured financing for the short from Warner Home Video, and headed to the country last year to make it happen. While doing research in Greenland, "I noticed a very beautiful relationship that the Inuits have with the dogs," he said.
They're traveling very far away from their villages to the ice to go fishing and in a way the only companions they have are the dogs. It's almost a friendship but also about survival. They depend on these dogs to move around but also the truth is if one of these dogs gets injured or they start becoming too old to be able to make the trip, since it's such a lengthy trip, they have to sacrifice it. I happened to run into a fisherman who had to sacrifice his dog and it's really hard for them.
Just as Gravity doesn't need "Aningaaq" to make sense, "Aningaaq" was designed to stand on its own merits apart from Gravity. And it'll do just that in the upcoming Academy Award race, as Warner Bros. has submitted the film for consideration in the Best Live Action Short category. If it works, "Aningaaq" could hit theaters early next as part of the Oscar-nominated shorts programs held at theaters across the continent. If not, look for it to land with the DVD/Blu-ray sometime next year.