'Olympus Has Fallen' Heading To London For The Sequel; Main Cast Will Return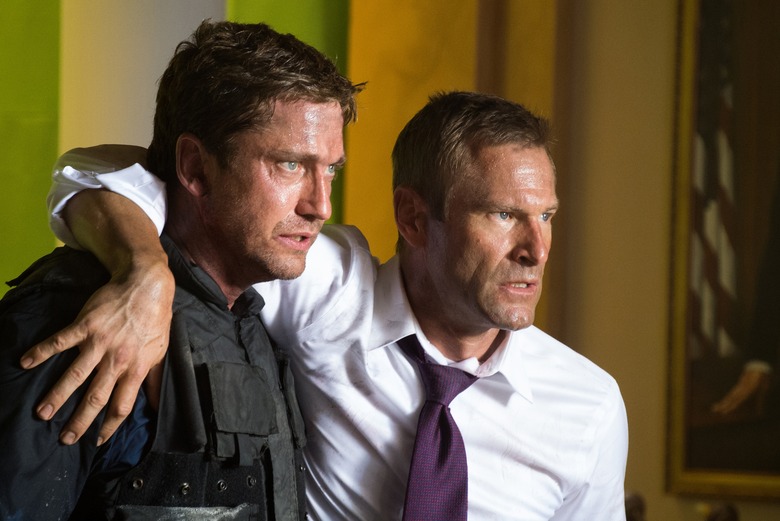 It took the Die Hard franchise five installments to send its hero overseas, but Olympus Has Fallen, a.k.a. "Die Hard in the White House," will get there considerably faster. According to a new report, Nu Image and Millennium Films are reuniting the entire principal cast of the first movie — including Gerard Butler, Aaron Eckhart, and Morgan Freeman – for London Has Fallen, set in, you guessed it, London. Hit the jump for more plot details.
London Has Fallen follows a terrorist plot to strike the city of London during the funeral of the British Prime Minister. For some reason, it falls on the POTUS (Eckhart) and his Secret Service head (Butler) to save the day, albeit with the assistance of an English MI6 agent. You're welcome, England.
Olympus Has Fallen was the first of two similarly themed movies to hit this year, and while Roland Emmerich's White House Down grossed more money overall ($205 million vs. $161 million), Olympus Has Fallen had the much lower budget ($150 million vs. $70 million).
It also made more domestically ($98 million vs. $73 million), because apparently Americans prefer their all-American action heroes to be less all-American and more Scottish. Either that, or Americans only have room for one "Die Hard in the White House" movie in their hearts and Olympus Has Fallen just got there first.
Alan Siegel and Gerard Butler (through G-Base) will produce the new film, along with Mark Gill, Matt O'Toole, and Danny Lerner. Avi Lerner, Trevor Short, Boaz Davidson, John Thompson, and Christine Crow will executive produce. FilmDistrict released the original; now that it's been absorbed into Focus Features, Focus will distribute the sequel. Production will begin in London next May.