Rumor: Harrison Ford Got 'Indiana Jones 5' Assurance To Comeback For 'Star Wars Episode VII' And Beyond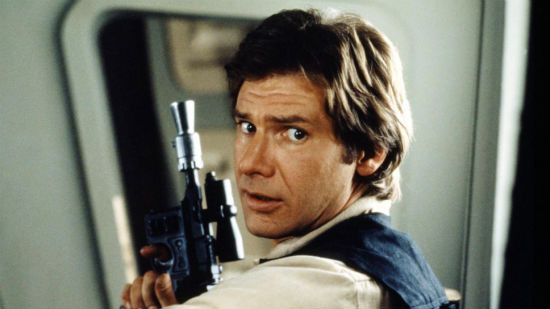 Though casting for Star Wars Episode VII has not yet been made official, once piece is all but assured. Harrison Ford is coming back as Han Solo. This was first reported in February by Latino Review and Ford himself all but confirmed it on The Graham Norton Show in the UK. So while Lucasfilm and Disney have yet to comment on any of this, it seems pretty likely. Now, the latest rumor gives a bit more details on his potential return.
Apparently, Ford had quite a few stipulations that had to be met for him to return for Star Wars Episode VII. And they were. Among the rumored stipulations were assurances progress would be made on Indiana Jones 5 (an idea he's more excited about than Star Wars) and he wanted approval on Solo's arc in not only Episode VII, but beyond. Meaning, yes, the character should survive into following films.
Read much more about this rumor below.
The rumor originated at JediNews, and they say the following:
A verbal agreement with Ford to play Han Solo once more has been in principle place since before the Disney deal. Over the course of this summer financial settlements were reached. The outstanding points that had dragged on but are now resolved are:
Ford wanted to see the synopsis for his character's development over more than just Episode 7. He saw this in August and is happy with the story arc.
Ford wanted a commitment to Indy 5. He did not get this as there is no plot line or script in place. What did happen was an agreement was made wherein an outline would be developed by the end of calendar year 2014, and if all parties can agree to it moving forward, efforts would be made to move on Indy 5 for release before the end of 2016.
Disney wanted a multi film deal with Ford which transcends Episode 7. This has now been agreed.
If half of this is true, there are obviously big ramifications. First is that Han Solo, whom most fans figured would die in Star Wars Episode VII, will live into the later films. This actually makes sense as the character *technically* would only be in his 50s in the new timeline. Ford, however, is 71.
The Indiana Jones 5 rumor also makes sense. Those films are not only important to Ford, but a huge payday. Holding Star Wars hostage to get it made seems like a pretty good, albeit radical tactic to get George Lucas working on that plot. For years, now, Steven Spielberg has said a suitable macguffin was the major hold up.
So what do you think of all this? Do you think Ford has this kind of clout? Do you want to see him as Solo and Jones in multiple films? And when will we hear if this is official or not?