Last Pages Of The 'Breaking Bad' Finale Script Give More Closure To Walt And Jesse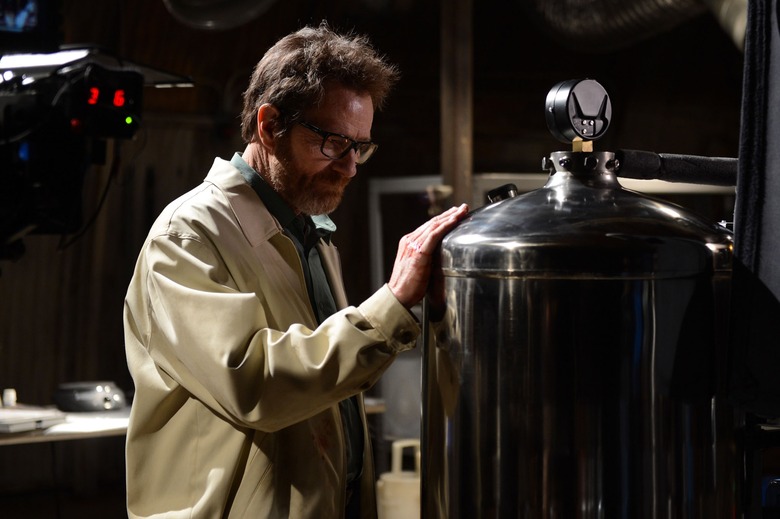 No matter how good the visuals were, the writing on Breaking Bad was always better. This was made evident to me a few months before Breaking Bad finally faded to black. Director Jason Reitman did a live read of Vince Gilligan's pilot script and I described the writing as follows: "As fantastic the first episode of Breaking Bad is to watch, to hear it read reveals another level of brilliance. If you were to travel back in time, sit down with Gilligan in 2007 and ask him to describe what happens in the show over a few beers, that's what his writing sounds like. It's perfectly, brilliantly descriptive with a language that's filled with vulgarity and humor. It has a conversational, culturally current tone that pops off the page."
So it's no surprise the script to the Breaking Bad finale, "Felina," gives much more detail to what we saw on screen. In Gilligan's language, he describes the final mindset of his main characters, revealing how he truly felt they finished the series. Check it out below.
Uproxx (via Pajiba) posted these two final script from another live read that took place in Austin. Here they are with commentary to follow.
First we'll go with Jesse. Gilligan describes his destination as "something better," which shows that despite the obvious open endedness of Jesse's ending (did he get captured? go find Brock?) it was meant to be positive.
Then there's Walt. Many felt his death was the ultimate punishment, but not Gilligan. He describes the final moments in the lab as being with "his true love" and his death as "getting away." Walt may have died, but he died happy. Talk about a beautiful ending.