Watch Unearthed 'Star Wars' Blooper Reel And 'Return Of The Jedi' Behind The Scenes Footage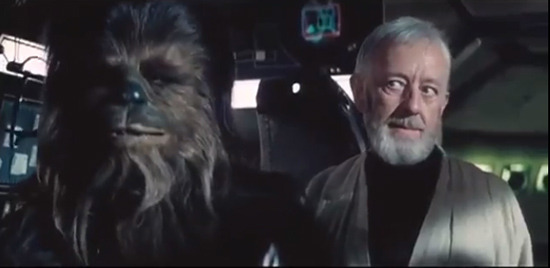 Just when you think you've seen every little bit of rare Star Wars material, someone digs up a new artifact.
Below is one video featuring bloopers from Star Wars — Alec Guinness, Harrison Ford, and Peter Cushing flubbing lines, and a whole lot of stormtroopers falling down — and a set of videos from Return of the Jedi. While the Star Wars footage is great for showing just how difficult the stormtrooper suits were to move in, the Jedi clips are truly surprising. They're alternate takes of a Dagobah scene, and are seriously rare as they're sourced from a demo laserdisc used to show off a proprietary Lucasfilm edit system developed in the early '80s.
Here's the Star Wars footage, which JW Rinzler showed off earlier this year, and is now online. Not there's no sound for most of the first minute:
And then there's some new Return of the Jedi footage. Here's a description of the source, from the FaceBook page of the uploader:
Historic Star Wars-related artifact of a now dead pre-Avid/Final Cut Pro computerized editing system developed by Lucasfilm which quaintly/wackily used multiple laserdiscs to cue up edits in a ill-conceived, overly-complex, bug-ridden system. One of Lucas' few commercial flops (you might call this the "Howard The Duck" of editing systems). This is a generic Scotch Videodisc with computer printed label was used to demonstrate the EditDroid system which was debuted at the NAB show in Las Vegas in 1984. Now here's the amazing part for you Star Wars freaks out there... Approximately 30 minutes of unedited raw, unsweetened work print takes in letterbox format of scene 50 (Luke on Dagobah with Yoda) from "Return of The Jedi" were used – NEVER OFFICIAL RELEASED MATERIAL. Slates, people yelling action, multiple takes of the same scenes of Luke and Yoda...
That page is playing host to a parade of clips as the full 30 minute collection of shots is uploaded. Here are a few: