NBC Rebooting 'Murder, She Wrote' With Octavia Spencer Starring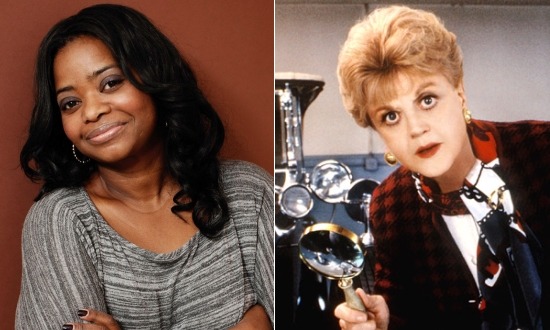 Murder, She Wrote is coming back from the dead. NBC is rebooting the long-running mystery series, with Oscar winner Octavia Spencer set for the lead role. Writer Alexandra Cunningham (Desperate Housewives) and producer David Janollari (Six Feet Under) are behind the new version.
Original star Angela Lansbury has been "approached" for a part as well, but it's unclear at this time whether she will be involved. Hit the jump for more details.
Spencer will play a hospital administrator and amateur detective who has self-published her first mystery novel. Fascinated by the sensational true crimes flooding the news, she decides to participate in the investigations.
The original Murder, She Wrote was a massive hit, running for 12 seasons on CBS and drawing 23 million viewers per episode at its peak. The show earned Lansbury four Golden Globes, another six Golden Globe nominations, and 12 straight Emmy nominations. The franchise eventually expanded to include four TV movies and a spinoff show (The Law & Harry McGraw), as well as various games and a book series.
Spencer explained how NBC got her involved in the project. "I've always considered myself an armchair detective and in a recent meeting with [NBC chairman] Bob Greenblatt, he asked me what type of character would be able to lure me to TV. Naturally, I said J.B. Fletcher meets Colombo," she said. "And here we are."
NBC's 2012-2013 schedule has drawn some criticism for its overreliance on the past. This year's freshman slate included new family comedies by former NBC stars Sean Hayes and Michael J. Fox, as well as a (quickly cancelled) revial of the '60s drama Ironside.
But that retro sensibility isn't likely to go away anytime soon. In addition to Murder, She Wrote, NBC is also developing shows based on Remington Steele and Reality Bites. To be fair, the Peacock isn't the only channel that's diving back into the past. CBS has Hawaii Five-0 and TNT has Dallas, and FX is working on the aforementioned adaptation of Fargo. The CW had a new 90210 until this past spring.
While Spencer is best known for movies like The Help (which won her that Oscar), she's logged plenty of TV experience on shows including Sci Fi Channel's The Chronicle, Comedy Central's Halfway Home, and ABC's Ugly Betty. This year, she guest-starred on NBC's 30 Rock and CBS' Mom.
[Source: Deadline]