'Like Crazy' Helmer Eyeing Kristen Stewart And Nicholas Hoult For 'Equals'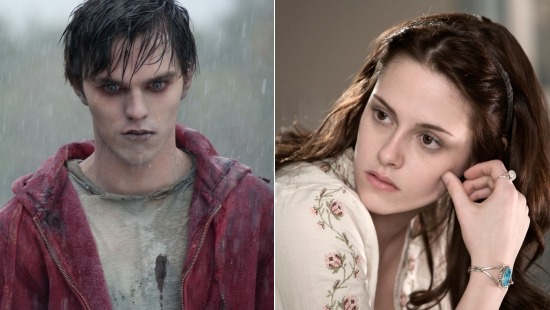 Could the world's most famous vampire lover find happiness with history's most romantic zombie? Maybe, if Drake Doremus has anything to do with it. The Like Crazy director is reportedly eyeing Kristen Stewart and Nicholas Hoult for Equals, a sci-fi love story by Nathan Parker (Moon). Hit the jump for more details about the new project.
However, Doremus has spoken in vague terms about where it fits, thematically, with his other films. "Like Crazy was about the past and had a very nostalgic feel to it, and kind of about my past. [Breathe In] is about confronting the idea of love in the present, and then what love means in the future is what I'm interested in exploring next," he told Movies.com.
Although Equals sounds like a change of pace from the smaller indie dramas that have comprised his career so far, Doremus sounds excited to branch out. "I definitely want to maintain the elements of the intimacy while doing something bigger and different," he explained to Little White Lies. He was vague about the scope of the film, saying only, "It's not going to be out of hand, but I think it's a logical next step, if that makes any sense without giving too much away of the budget realm."
Stewart had a big year last year, concluding one major studio franchise (The Twilight Saga: Breaking Dawn – Part 2), kick-starting another (Snow White and the Huntsman), and starring in a high-profile indie film (On the Road) to boot. But she hasn't appeared onscreen at all this year, and won't until Camp X-Ray and Olivier Assayas' Sils Maria open next year.
Hoult was more active in 2013, leading both Warm Bodies and Jack the Giant Slayer in the first quarter of the year. He has an even busier period ahead in 2014, with X-Men: Days of Future Past, Mad Max: Fury Road, the Gillian Flynn adaptation Dark Places, and Jake Paltrow's Young Ones, all due out in 2014.