Tom Cruise And Joseph Kosinski Developing 'Go Like Hell' As 'Oblivion' Follow-Up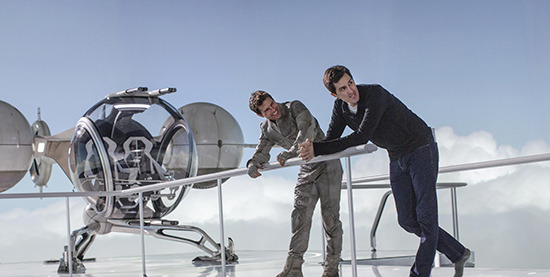 We know that Tom Cruise likes to work with the same people multiple times if they get along, and evidently he liked his Oblivion gig with director Joseph Kosinski. The two are going to develop another film together.
In this case the movie is Go Like Hell, set in the '60s and based on the book Go Like Hell: Ford, Ferrari, and their Battle For Speed and Glory at Le Mans by A.J. Baime. The story, as you might surmise from that long subtitle, is about the Le Mans rivalry between Henry Ford II and Enzo Ferrari; if this deal leads to a real film, Cruise would play Ford, who with Lee Iacocca and engineer Carroll Shelby designed a car to challenge Ferrari's European dominance.
This one has been developed by a couple producers for various directors; Michael Mann was once attached to make the movie. Cruise and Kosinski don't have deals yet, and we don't know if any previous script draft might be used, or if they'll start from scratch.
The Wrap broke news of the deal. Cruise will have the "repeating time" sci-fi film Edge of Tomorrow out in June of next year, and will make a fifth Mission: Impossible film before this one. Kosinski has a number of possible next projects on his plate.
Update: there's some confusion over the role for Cruise. Borys Kit from THR says,