Watch A One Minute Preview Of The 'Captain America: The Winter Soldier' Trailer [UPDATED]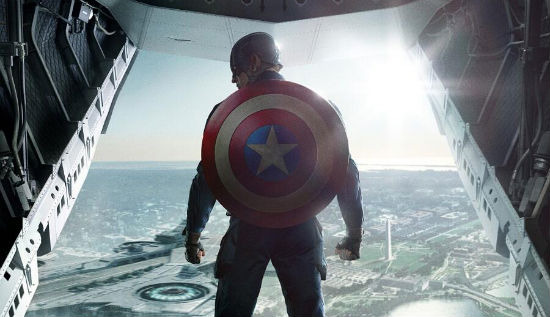 Update from Editor Peter Sciretta: Entertainment Tonight aired a one minute preview of the trailer for  Captain America: The Winter Soldier. You can watch it embedded after the jump, with the full trailer set to premiere in the morning (sans annoying ET voice over).
via: reddit
Original story follows
Thursday brings the first trailer for Captain America: The Winter Soldier, the third film of Marvel's Phase 2, directed by Joe and Anthony Russo. Captain America (Chris Evans) is now a full fledged member of S.H.I.E.L.D. and ends up teaming up with Black Widow (Scarlett Johansson) to bring down a villain he eventually discovers to be his long lost friend, Bucky (Sebastian Stan). These days, the guy goes by the name The Winter Soldier.
We'll surely learn much more once the trailer hits, but for now, check out the first two stills from the film below.
UPDATE: We've also added a ten second preview for the trailer.
Thanks to USA Today for these images. Even though it's USA Today, they're pretty crappy quality, we'll update when we can.
The image on the right is the climax of the scene they showed at Comic-Con and again at D23, where Cap gets jumped in an elevator by Frank Grillo's character and more. As for the left one, who knows, but it's a great look at the new suit.
Captain America: The Winter Soldier, starring Chris Evans, Scarlett Johansson, Sebastian Stan, Anthony Mackie, Cobie Smulders, Frank Grillo, Emily VanCamp, Hayley Atwell, Robert Redford and Samuel L. Jackson, opens April 4, 2014.
After the cataclysmic events in New York with The Avengers, Marvel's "Captain America: The Winter Soldier" finds Steve Rogers, aka Captain America, living quietly in Washington, D.C. and trying to adjust to the modern world. But when a S.H.I.E.L.D. colleague comes under attack, Steve becomes embroiled in a web of intrigue that threatens to put the world at risk. Joining forces with the Black Widow, Captain America struggles to expose the ever-widening conspiracy while fighting off professional assassins sent to silence him at every turn. When the full scope of the villainous plot is revealed, Captain America and the Black Widow enlist the help of a new ally, the Falcon. However, they soon find themselves up against an unexpected and formidable enemy—the Winter Soldier.
UPDATE: Here's a tease of the trailer, via Facebook
(function(d, s, id) { var js, fjs = d.getElementsByTagName(s)[0]; if (d.getElementById(id)) return; js = d.createElement(s); js.id = id; js.src = "//connect.facebook.net/en_US/all.js#xfbml=1"; fjs.parentNode.insertBefore(js, fjs); }(document, 'script', 'facebook-jssdk'));
// ]]>