George Clooney's 'Monuments Men' Pushed To 2014 [Updated]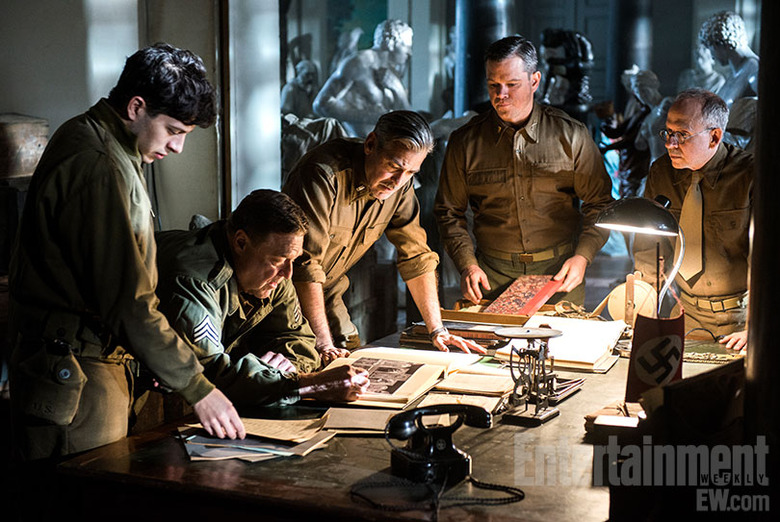 Each year, the studios stuff the last two months with awards season hopefuls, and each year, a few decide to back down before we get actually there. Martin Scorsese's The Wolf of Wall Streets seems likely to cling to 2013 — barely — but Bennett Miller's Foxcatcher and Olivier Dahan's Grace of Monaco have already shifted to 2014, and now George Clooney's Monuments Men is following suit. Find out why after the jump.
Update: Clooney has spoken up about the delay in greater details. Read his quotes below.
Clooney and his producing partner Grant Heslov had been racing to complete the film in time, but when they arrived in London earlier this week they realized there was still too much to do. "I looked at Grant and said, 'We're dying,'" Clooney said. At the time of his conversation with the publication, the pair were preparing for a 16-hour scoring session with composer Alexandre Desplat and a 110-piece orchestra.
Ultimately, Clooney decided it'd be better not to rush the movie too much. While principal photography wrapped in July, the hundreds of visual effects shots were taking time to perfect. "If any of the effects looked cheesy, the whole movie would look cheesy," he explained. "We simply don't have enough people to work enough hours to finish it."
He added: "It wasn't going to be finished, and I wouldn't want to have my name on it. "You don't want it to look like a film that was all done in the computer."
The delay pushes Monuments Men out of contention for the next Oscars, but Clooney doesn't seem to mind. Indeed, he says he's happy to stay away from the super-crowded holiday movie season, and give Monuments Men a bit more time to breathe. And he's pleased to give himself some room, too. ""The good news for us is that we're really happy to buy ourselves a month," he said. "I can't tell you how relieved we are."
Update: While the quotes above seem pretty self-explanatory — there isn't enough time to make the original release date and get the movie right — Clooney is frustrated enough with some reports of the movie being in trouble that he offered more to Deadline. He says "we're trying to make our first un-cynical film, a commercial movie" and explains the delay in detail:
The straight up facts are these. We had a really good test last week, scoring in the mid 80s, in Arizona. And when we were on the plane coming back with Jeff Blake, Amy Pascal and Michael Lynton, they said look, let's be honest. There are lots better times to bring this movie out than December 18. How about November 22? Can you do it? Now, today is our first day at the scoring stages at Abbey Road. Then they call and ask, how about the 15th of November? We like to pull stuff off, and we said, let's see what we can do. That was two days ago.
We had a meeting with all the effects guys for our CGI stuff, and, we're just not going to get there in time. Then we looked at the date we had, December 18. I don't know how many movies are opening, but it's got to be the toughest December in recent memory for box office. We said, where's another good place to land? And we looked at February and the Shutter Island slot.
...As hard as we're working, the truth of the matter is, we only started principal photography on this in March. So the idea we'd have all the effects ready was a stretch anyway. And we didn't make it. It's that simple. It's certainly not about tone of the film, because it's testing through the roof. We said, let's just find a spot where the movie can find an actual audience instead of fighting with 22 other films in December.
The piece also points out that Clooney's shoot schedule on Brad Bird's Tomorrowland would prevent him from doing much Monuments Men press had the film opened in December. Now the two schedules, shooting and press, will fit together better, along with the post-production schedule for Monuments Men.