Sequel Bits: 'The Hobbit', 'National Treasure 3', 'Aliens', 'Dumb And Dumber To'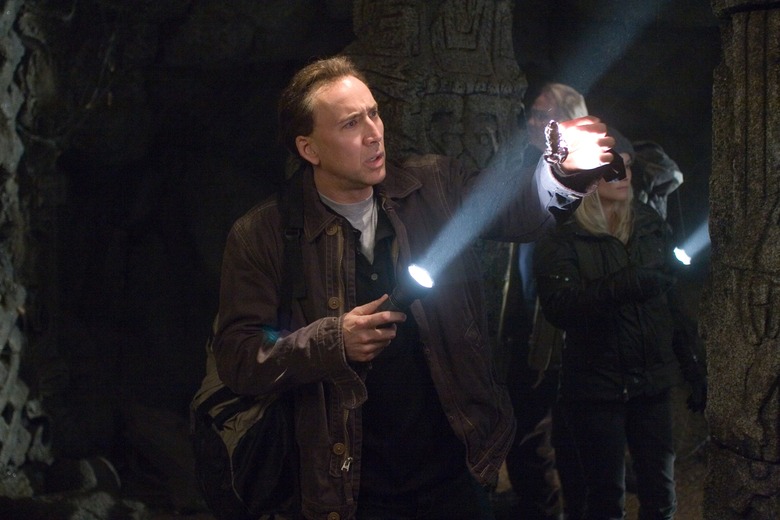 It's an extra-chatty edition of Sequel Bits, as everyone has a little something to say about everything. After the jump:
A $500,000 camera has been stolen from Dumb and Dumber To
The next Aliens game might be about Ripley's daughter
Peter Jackson chats about the score for The Hobbit
Director thinks National Treasure could shoot in two years
Dan Aykroyd is going on about Ghostbusters 3 again
Keanu Reeves chats about Point Break and Speed
But as pricey as the camera is, police explain that this particular model is so rare that it's unlikely to get much at the pawn shop. "I don't think a person who is not in the industry would even know what it is," said an officer. An employee associated with the production added that without the accompanying equipment, which the thieves did not get, the camera itself wouldn't work.
In the end, then, the looters may be better off getting the stolen goods back to its owners: A $5,000 reward is being offered right now for anyone with equipment that leads to the camera's return. [UPI, MyFox Atlanta]
Sega has taken criticism of the disastrous Aliens: Colonial Marines to heart and is working hard to ensure that the next title is better, a source told Kotaku. The new game, titled Aliens: Invasion, will reportedly center on Amanda Riley, daughter of Ellen Ripley. Here's a description of the rumored plot:
You, as Amanda, spend most if not all of the game on a single space station, according to our source. There's only one alien for "most" of the game, our source said; you'll mostly be shooting through "clones and soldiers." Vents, lockers, and melee weapons are a big part of Isolation, our source said, and the game is heavily inspired by the first Alien movie.
None of this has been officially announced by Sega, but the site says their source re-confirmed the details today. [Kotaku]
The Hobbit: The Desolation of Smaug have the dragon's voice and movements down, as shown in the trailers, and now Peter Jackson is finalizing the music that will help bring him to life. "There's a little bit of a Smaug theme in the title," the director said after listening to music from the movie's prologue.
As composed by Howard Shore, the Smaug theme will feature Asian influences in a nod to the prominence of dragons in Chinese and Indonesian culture. There'll also be a touch of Psycho, to reference the dragon's dark personality.
Smaug is not Jaws or a monster. Smaug is a psychopath. Smaug is literally a cunning, intelligent psychopath who is laying in wait for these guys. So it's sinister clever kind of music.
As you can imagine, crafting that score is a lot of work. It takes the orchestra six hours to play about 10 minutes of music, under orchestrator Conrad Pope. So try to appreciate their efforts when the movie opens December 13. [New Zealand Herald]
National Treasure 3 was supposed to hit in late 2011. Instead, we're deep into 2013 and not a single frame has been shot. But director Jon Turteltaub says the project isn't dead — they're just having a hard time getting it right.
If you can write the script, we'll take it! It's so damn hard to write a great historical mystery based on fact. It's not for lack of trying. We want to do the movie. Disney wants to do the movie. We're just having the damnedest time, writing it.
Still, Turteltaub sounded optimistic. "I'll bet that within two years, we'll be shooting the movie," he said, explaining that they were "about halfway" to being ready to shoot. "It's not only writing a great historical mystery, but we've gotta write something that has nothing to do with anything we've done before. The goal is to always have an original sequel, as silly as that sounds." [Collider]
A less committed individual might have given up on the dream of Ghostbusters 3 by now, but Dan Aykroyd sounds as determined as ever. "We are very close now to getting it together to start casting and hiring people," he said in an interview.
Said "people" do not include Bill Murray, who has made it clear that he does not want to star. If he changes his mind, though, Aykroyd will make room. "He hasn't committed, of course we have a hole for him there and a portal for him to walk through if he wants to," he said.
While Murray's Dr. Venkman is a fan-favorite character, Aykroyd insists that he's not crucial to the third film.
You don't need anyone from the first one. You don't, it's so strong without it. You get a new generation in there, new plot, use some of the particle physics, get a new Ecto, you don't need to go back to the past.
And yet, if the entire concept of a third Ghostbusters isn't "going back to the past," what is? [3 News]
Keanu Reeves has done his share of sequels, but it doesn't sound like another Speed will be one of them. When a fan asked during a Reddit AMA session whether he'd be willing to reunite with Sandra Bullock for another action movie — perhaps "a proper Speed sequel" — Reeves gave the following response:
That sounds GOOD! I would love to be able to do that. I don't think it would be on a SPEED project. But you know, you never know in the future, if there's something we could do.
Nor will Reeves be doing a Point Break sequel or remake. Though he does have another suggestion for those who want more Johnny Utah.
I believe that there's a group of people that do Point Break Live in LA, and a couple other cities. I think they will do a new Point Break, but I am not a part of it. There are plans to do another one. And Point Break Live you get to play Johnny Utah in a stage version of it, and it sounds like a lot of fun.
A Bill & Ted 3, however, is still in the works. "There's a script and we are trying to put it together," he said. [Reddit]