'Neighbors' Green-Band Trailer: Is Zac Efron The Next Channing Tatum?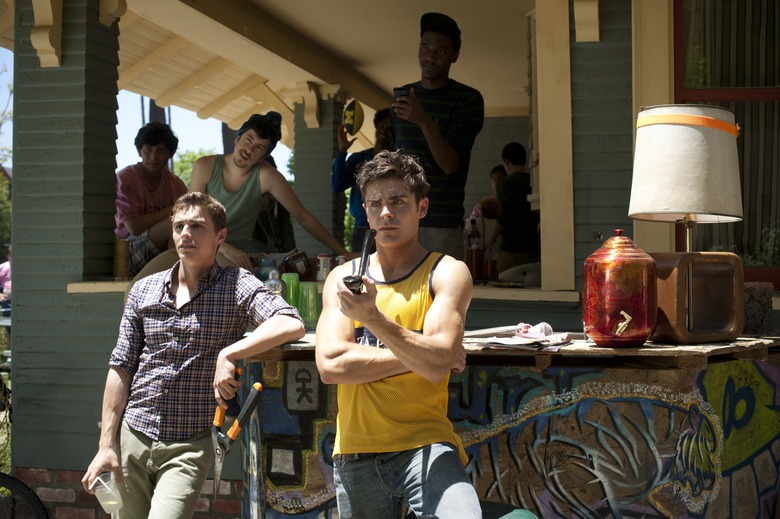 Zac Efron has spent the years since High School Musical drifting between very different types of movies without ever quite finding his new niche. But the way things are going, 2014 could be the year he becomes the next big thing in R-rated comedy.
Earlier today, we got the green-band trailer for That Awkward Moment after seeing a red-band trailer last week. Now we have the green-band trailer for his other, possibly even raunchier movie Neighbors, following the release of its red-band trailer last month. Nicholas Stoller directs this one, about young parents (Seth Rogen and Rose Byrne) battling the rowdy frat (led by Efron) next door. Watch the promo after the jump.
Efron doesn't seem like the most obvious pick to play a wild frat brother, but then again, we were equally skeptical when Channing Tatum booked 21 Jump Street and now look where we are. Or, to choose an example that's closer to home, who knew Byrne could be so hilarious when Stoller cast her in Get Him to the Greek? Efron is a likable presence, and he looks funny enough here that I'm happy to give him the benefit of the doubt.
Meanwhile, Rogen looks like he's doing a fine job in the straight-man role — even if his character is immature enough to try and impress the frat boys before lowering himself to their level — and it's fun to hear Byrne in her native Australian accent for once. The rest of the cast looks pretty solid, too. Lisa Kudrow, Jake Johnson and Ike Barinholtz appear in supporting roles, and Dave Franco, Christopher Mintz-Plasse, and Craig Roberts play some of the other college kids.
Neighbors opens May 9, 2014.
Seth Rogen, Zac Efron and Rose Byrne lead the cast of Neighbors, a comedy about a young couple suffering from arrested development who are forced to live next to a fraternity house after the birth of their newborn baby. Neighbors is directed by Nick Stoller (Forgetting Sarah Marshall, Get Him to the Greek).