'Wolf Creek 2' Trailer: "You're Nothin' But Foreign Vermin"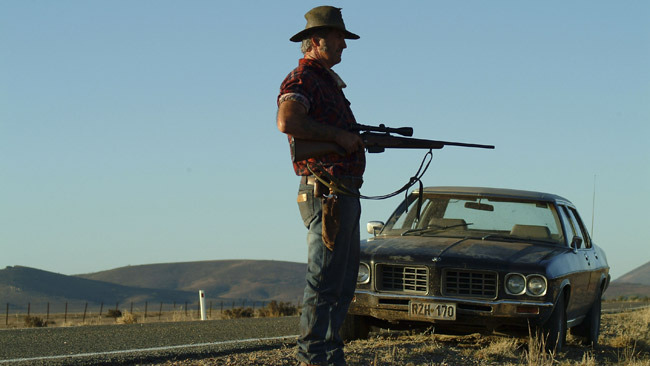 I was surprised to see Wolf Creek 2 on the schedule for the Venice Film Festival last month, and more surprised to see it get pretty enthusiastic reviews at the fest. Probably shouldn't have been; here writer/director Greg McLean returns to the scenario he crafted for the original film — a cannibalistic psycho menaces wanderers in the Australian outback — but with a slightly tweaked emphasis.
The idea is one introduced in the original, where John Jarratt's brutal killer Mick Taylor was on the verge of becoming a larger than life anti-hero for the super-right-wing set. He's not just chasing down "invaders" of his territory; he's doing so because they are "foreign vermin." This time, McLean seems to be pushing that angle even to an even greater degree. (There's also more of a "road movie" approach to this story, which could be great.)
And, if nothing else, the outback is a hell of a place in which to shoot a horror picture. Check out the trailer below.
Trivia: Jarratt played one of the mining co. employees in Quentin Tarantino's Django Unchained, and I suspect that QT's horrible Australian accent in that film was an intent to pay further homage to him.
There's no domestic release set for Wolf Creek 2, but the film opens in Australia in February. [The Wrap]
The Australian outback is a lonely, isolated place—the perfect playground for a sadistic serial killer with a penchant for bloodthirsty sport. A red wasteland, the stifling, oppressive heat isn't the only menace that should be feared. Bored with the so-called commercial tourism of the city, young and idealistic backpackers Rutger and Katarina yearn to explore the "real" Australia and travel to the hauntingly beautiful but desolate Wolf Creek National Park. Far from civilization, the breathtaking vistas and vast open spaces belie a danger lurking in the shadows. Psychopathic pigshooter Mick Taylor is the last man any outback traveler wants to meet and now his irreverent attitude towards human life has escalated to a sadistic new level. Wolf Creek 2 will have your pulse racing. Paralyzed with fear, we all bear witness as Mick offers no mercy to his victims.