'Tarzan 3D' Trailer: Kellan Lutz Swings, Or Flails, As The Lord Of The Apes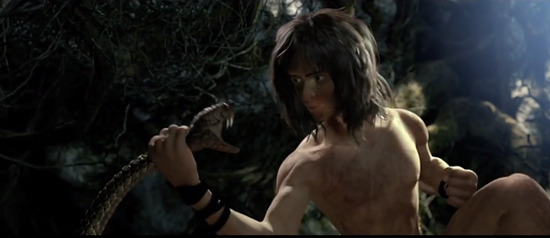 Kellan Lutz (Twilight) isn't just the other Hercules (the one that isn't The Rock), he's also the new digi-Tarzan. For Tarzan 3D, the actor provided the voice work and mo-cap performance for the title character, who does all the hanging with apes and swinging on vines that you'd expect from a Tarzan story. When we saw the first teaser for the film over a year ago, it was impossible to tell what this version offers that others don't.
Now a full trailer gives us some idea of what's unique to this version: global stakes. Because in this version, there's a mountain that houses a centuries-old asteroid that turns out to be a massive energy source. And so Greystoke appears in this telling not as a moneyed old English title, but as an energy company hungry to gain possession of the mountain. It's too early to say that the founders of Gerystoke Energies will turn out to be Tarzan's late parents, but that's what the name and the opening shot suggest.
Watch the trailer below.
So... yeah. Spencer Locke (Detention) plays Jane, and she and Lutz (and everyone else, really) seem to have their energy dialed in to "script run-through" rather than full performance.
And while it doesn't seem right to rag on the animation too much — there was a point years ago where this would have looked pretty advanced — what we see here really doesn't hold a candle to the benchmarks in current theatrical animation. Not that a CG animated film is all about technological achievement, but without character designs or other unique elements to make a film stand out, it's on the animation to carry a project. Based on this footage, Tarzan 3D does not seem to have either the unique features, or the technical chops.
[Addictomovie.com via ComingSoon]