'Jackass Presents: Bad Grandpa' Red-Band Trailer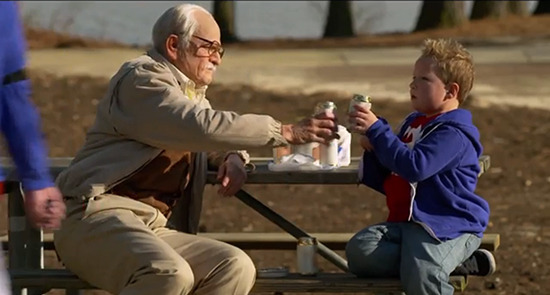 The Jackass segments featuring Johnny Knoxville made up to look like a much older man were always fun, but can that concept work during the course of an entire film? We'll find out in a few days when Jackass Presents: Bad Grandpa opens in theaters.
In the meantime you can get another look at the film via this red-band trailer, which is very definitely not safe for work thanks to the presence of, among other things, a very stretchy prosthetic penis. If that seems tame, there's also very underage drinking, some awkward strip club action, and serious car-on-penguin violence.  
Jackass Presents: Bad Grandpa opens on October 25.
86 year-old Irving Zisman is on a journey across America with the most unlikely companion, his 8 year-old Grandson Billy in "Jackass Presents: Bad Grandpa." This October, the signature Jackass character Irving Zisman (Johnny Knoxville) and Billy (Jackson Nicoll) will take movie audiences along for the most insane hidden camera road trip ever captured on camera. Along the way Irving will introduce the young and impressionable Billy to people, places and situations that give new meaning to the term child-rearing. The duo will encounter male strippers, disgruntled child beauty pageant contestants (and their equally disgruntled mothers), funeral home mourners, biker bar patrons and a whole lot of unsuspecting citizens. Real people in unreal situations, making for one really messed up comedy.