Exclusive: Kevin Feige Says We Know All The New Marvel Movies; Plus 'Thor 3' And Assembling For 'Age Of Ultron'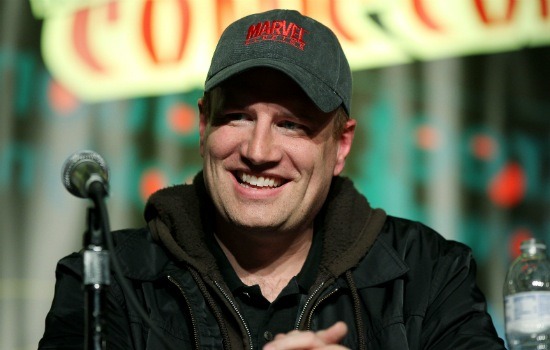 Most people are made of cells; Kevin Feige is made of news. Seemingly every time the Marvel Studios president does an interview, he drops a ton of interesting news about the upcoming Marvel Cinematic Universe. Speaking to Feige in London this weekend about Thor: The Dark World was no different. While the majority of that conversation dealt with major spoilers from the film (check back after the November 8 opening for that talk) he did offer up some interesting quotes about Marvel moving ahead.
First up, Feige said we've already heard all of the new properties they're working on, most of which haven't been officially announced. Things like Doctor Strange, Inhumans, Hulk etc. He then talked about why Ultron is bad enough to cause The Avengers to assemble again, but Malekith (in Thor: The Dark World) is not. Third, while Tom Hiddleston has confirmed he won't be in Avengers: Age of Ultron, Feige said he wouldn't be back before Thor 3. (A film they have ideas about, but is far from official). Finally, he explained how the Marvel release schedule might look moving ahead and that Comic-Con 2014 isn't assuredly where we'd find out about those new films.
Read selections from our interview below.
Here are a few selections from the full interview, pepped with new commentary. I've bolded the major quotes and removed all Thor: The Dark World spoilers.
/Film: Malekith poses a universal problem in Thor: The Dark World. How is Ultron going to be a bigger problem, to necessitate assembling The Avengers? I know the reason Thor doesn't call The Avengers, in this film, but Malekith does pose a huge problem. How does Ultron compare?
I don't think it's going to be about saving the universe every time. We've said that. It's not about saving planet earth every time. It might be many times, but the threat that Ultron brings is certainly worthy of all the Avengers needing to come together and also the timing does play a large part of that. When you see a threat coming you have more time to assemble. There's not a whole lot more I can say on that.
So Ultron isn't something that's sprung on The Avengers, it's something that develops slowly. Interesting. Back to the interview:
/Film: Where and when do you think we will see Loki come back at this point? Phase 3 seems likely. A third Thor film?
Feige: Yeah, I don't think it would be before Thor 3 if there is a Thor 3 and while we certainly have ideas of where we would like that to go, there are no specifics. We have to see how this one does and then go from there.
Finally, I asked if we'll find out about Phase 3 at Comic-Con and Feige confirmed they hope to alternate sequels and original properties every year, but there isn't anything new and exciting going on right now:
/Film: It seems like Comic Con has become your jump-off point for everything. Can we look at Comic Con 2014 as a place where we might get a reveal of titles for the next batch of release dates, or is it sort of still all in flux?
Feige: It's all in flux. Well, not all in flux, but specific titles for those dates, we are honing in on them. It probably wouldn't be earlier than Comic-Con to announce that, but perhaps. It's a long way away.
True, it is like seven or eight months. But is everything we've heard is on the table? Dr. Strange, Hulk, maybe another Guardians, Thor are these all on the table?
I think it's important, in an ideal world, that we have an additional story on a pre-existing character and then introduce a new character. So next year is The Winter Solider, Guardians...Year after that, Age of Ultron, Ant-Man. That's a nice rhythm. It might not always be like that. I mean [this year was] Iron Man 3 and The Dark World, so it won't always be like that necessarily, but that's certainly something to aim for. So we have additional stories of the existing characters in development and the new ones, all of which you've heard before.
We've heard of them all? Crazy.
We'll have much more from Feige, director Alan Taylor and actor Tom Hiddleston in the coming weeks as we move toward the November 8 release of Thor: The Dark World.