Johnny Knoxville Confirms Unofficial 'Bad Grandpa' Sequel Will Hit DVD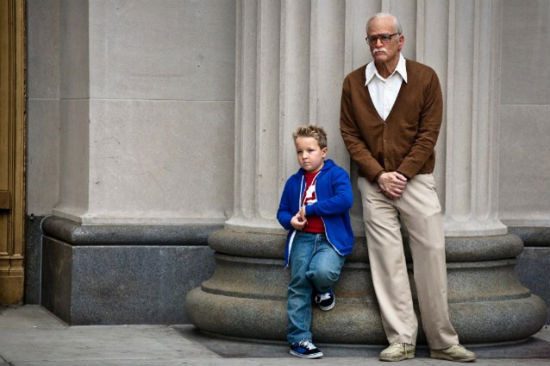 It's flying a bit under the radar, but there's a new Jackass movie coming out this weekend. Jackass Presents: Bad Grandpa comes from the same twisted minds who brought us the violent, hilarious TV show and three feature films. This time though, they're coming at the idea from a different point of view. In Bad Grandpa, instead of building a film around stunts, director Jeff Tremaine and star Johnny Knoxville tell a narrative story featuring unassuming real people shot reality style, like Sacha Baron Cohen did in Borat and Bruno. That story follows Jackass character Irving Zisman (Knoxville) who travels across country with his 8-year-old grandson (Jackson Nicoll) in tow.
On the last few Jackass films so much footage hit the cutting room floor, they were able to release unofficial sequels (dubbed ".5") on DVD. Knoxville confirmed the same will happen on Bad Grandpa. The difference this time is the new film will feature two Oscar-nominees cut out of the theatrical cut: Spike Jonze and Catherine Keener.
Thanks to ScreenCrush for the info.
They report Bad Grandpa 1.5 will be released simultaneously with the theatrical release on DVD and Blu-ray and "It would act as an unofficial sequel to the upcoming comedy, which Knoxville said had a ton of great material that had to be cut for time."
As for Jonze and Keener, the Oscar-nominees both shot scenes as old ladies but they got cut. Those scenes will be in 1.5. (However, according to ScreenCrush, you can see Keener very briefly in one scene in the theatrical cut of Bad Grandpa.)
Jackass Presents: Bad Grandpa opens Friday October 25.