Early Buzz: 'Saving Mr. Banks' Delivers Disney Delights, For Better And Worse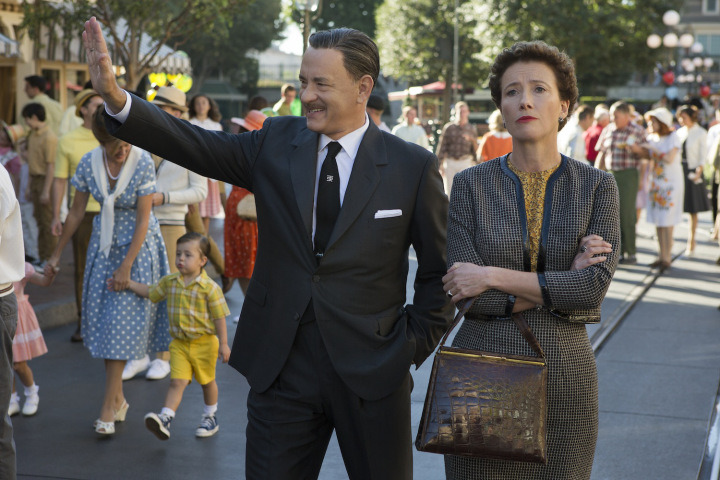 Disney has three big films coming out this holiday season, but only one is about the company itself. That's Saving Mr. Banks, the true story of Walt Disney's courting of author P.L. Travers for the rights to her book, Mary Poppins. Directed by John Lee Hancock (The Blind Side), the film features Tom Hanks as Disney and Emma Thompson as Travers. It opens December 13 in the U.S. but had its world premiere this weekend at the London Film Festival.
So how is it? The first reviews are out and while everyone seems to agree there's plenty of Disney magic, and some people even smell Oscars, a few don't necessarily think it works. Read a bunch of reviews below.
Here are a few quotes from reviews that hit last night.
Somewhere, Uncle Walt is smiling. The Mouse House impresario's protracted courtship of novelist P.L. Travers to secure the film rights to her "Mary Poppins" has all the makings of an irresistible backstage tale, and it's been brought to the screen with a surplus of old-fashioned Disney showmanship in "Saving Mr. Banks." Thick with affection for Hollywood's most literal "dream factory" and wry in its depiction of the studio filmmaking process, director John Lee Hancock's "Sunset Blvd." lite (which opens Dec. 13 after London and AFI festival berths) should earn far more than tuppence from holiday audiences — and from awards voters who can scarcely resist this sort of mash note to the magic of movies (e.g., "Argo," "The Artist").
Some contrarians will balk at the highly sympathetic depiction of Walt Disney himself (played by Tom Hanks), hardly a surprise given that the logo of the company he founded opens the credits. However, audiences will swallow this tasty spoonful of sugar without complaint. A most delightful box-office result should be expected when it opens in the U.S. Dec. 13 (two weeks after Britain), a frame well chosen to maximize the family market and position the film in the awards-season calendar.
Ultimately, "Saving Mr Banks" is witty, well-crafted and well-performed mainstream entertainment which, perhaps unavoidably, cleaves to a well-worn Disney template stating that all problems – however psychologically deep-rooted – can be overcome. And perhaps we shouldn't be overly surprised at occasional lapses into sentimentality from the director behind triumph-over-adversity films like "The Rookie" and "The Blind Side." But it casts fresh new light on a classic Hollywood story, and is anchored by a fine turn from Thompson. Her blend of steeliness and vulnerability really lingers in the memory.
Saving Mr Banks is an indulgent, overlong picture which is always on the verge of becoming a mess. Thankfully, reliable old Tom Hanks snaps his fingers and – spit, spot – everything more or less gets cleared away.
On the whole, the story bowls along agreeably. The references to the Mary Poppins film are handled deftly: the lyric "wind's in the east, mist coming in/Like something is brewing, about to begin" could easily be about Travers's arrival in Hollywood as well as Mary Poppins descending on the Banks family.
The film...is effective enough as a weepie. It boasts a fine performance from Thompson, who starts the movie in eccentric groove like a prickly version of Joyce Grenfell's Miss Gossage, but slowly and subtly reveals her character's vulnerabilities and complexities. However, Saving Mr. Banks also feels sanitized and disingenuous. Although the idea was initially developed by BBC Films, this is the Disney version of how Disney made Mary Poppins.
"Saving Mr. Banks," John Lee Hancock's bright, entertaining and — inevitably — somewhat selective overview of "Poppins'" conflict-laden journey to the screen, is a film that aims for the inverse of that formula: a small dose of acrid personal history is applied to make its sentimental study of creative collaboration yielding personal catharsis that much easier to swallow. That's not necessarily a knock against it. If the tidy emotional geometry of Kelly Marcel's script occasionally feels Disney-esque, that seems only right for a film explicitly about the pervasiveness of Disney's optimistic storytelling principles in popular culture — and more implicitly about the way even those heightened principles can mirror the odd human truth. Sometimes life is sentimental, and some will fight it more than others.
Take the film with a pinch of salt, or indeed a spoonful of sugar, and "Saving Mr. Banks" proves to be a robustly entertaining drama about a bruising Hollywood face-off.
It's funny and, when it comes to it, moving, and nicely captures the creative process in a way that some movies-about-movies struggle with (a scene that contrasts the creation of the song "Fidelity Fiduciary Bank" with a very public breakdown for Farrell is a neat touch). That said, it also feels a little disposable, and some of that might be down to the bland, workmanlike direction from John Lee Hancock. The director has a solid handle on tone, but gives a slightly chocolate box feel to the rest of the film, and perhaps stretches out the Australian flashbacks a little far—they do start to feel repetitive by the end of the two-hour running time.