Confirmed: Tim Burton In Talks To Direct The 'Beetlejuice' Sequel [Updated]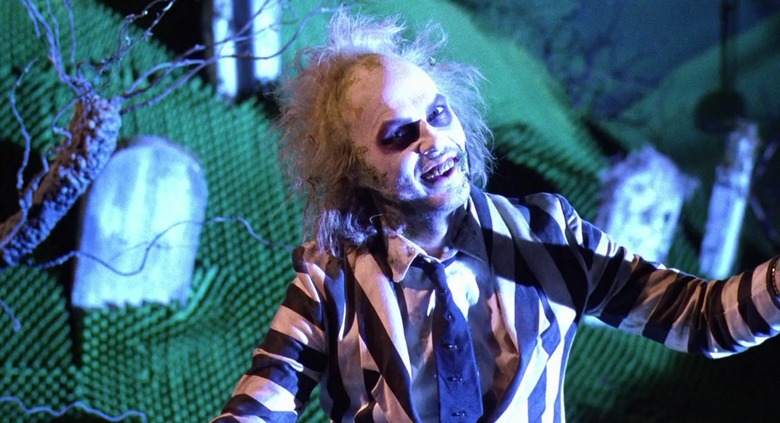 Update from Editor Peter Sciretta: The Wrap has confirmed that Tim Burton IS in talks to direct Michael Keaton in Beetlejuice 2. The Geffen Company will produce the sequel with Seth Grahame-Smith.
20th Century Fox's fantasy film "Miss Peregrine's Home for Peculiar Children" may not be Burton's next movie. Peter Chernin's production company is producing the adaptation of Ransom Riggs' bestselling novel. The truth is that Burton hasn't decided what his next movie will be, and while it definitely won't be "Beetlejuice 2," his long-rumored interest in a sequel is no mere flirtation anymore.
So while its confirmed Burton's in talks, its not a done deal. Original story follows below.
We've hoped from the start that Tim Burton would be involved with the Beetlejuice sequel in one way or another, and now it seems he may be even more involved than we had originally anticipated. According to a new rumor, the filmmaker is considering directing the new movie himself, from the script by Seth Grahame-Smith and David Katzenberg. Hit the jump to get the latest.
The story comes from The Schmoes Know podcast (via Comic Book Movie), who heard it from a "VERY RELIABLE" inside source. (Their caps, not ours.) If true, it sounds like Burton's pretty serious.
Their tipster says that Burton was actually considering dropping out of Fox's Miss Peregrine's Home for Peculiar Children last week so that he could do Beetlejuice 2 instead. Fortunately for Fox, Burton was eventually able to rearrange his schedule, and now plans to do both movies. Or so says the story.
The popular sentiment among fans is that Beetlejuice 2 won't be Beetlejuice without Burton and star Michael Keaton, and writers Grahame-Smith and Katzenberg have agreed from the beginning. They explained in 2011:
When Warner Bros. came to us about it, we said the only way we'd do it if we got Tim [Burton's] blessing and involvement, and we got that, and the star of the movie has to be Michael Keaton as Beetlejuice, and it's a true continuation 26 years later. Not just throwing him in as a cameo going, "Hey, it's me. I endorse this movie." We're not there yet [with Keaton] because we don't have a film to present to him.
Burton has mentioned a few times in the past that he's spoken with the writers, but this is the first we've heard that he may direct. Keaton hasn't talked about it as much, but others have said that he's excited about reprising his iconic role. Winona Ryder so far does not seem to be involved. The new film is a direct sequel that will pick up twenty-something years after the events of the original. No release date has been scheduled at this time.