'Homefront' Red-Band Trailer: Jason Statham And James Franco Are At War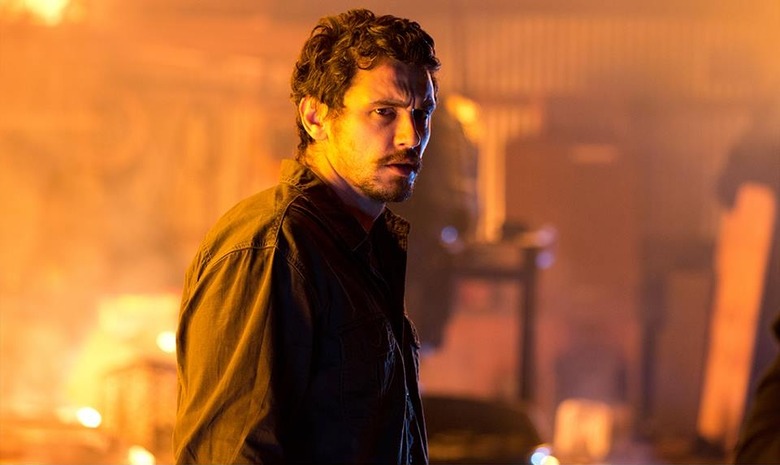 James Franco got pretty weird in Spring Breakers earlier this year, but Alien is a big old teddy bear compared to the unhinged meth kingpin he plays in Homefront. He's so scary, in fact, that Jason Statham may be the only man who can take him down.
The Gary Fleder-directed, Sylvester Stallone-scripted thriller follows a former DEA agent who retires to a quiet rural community to start a new life with his daughter. But the peace is soon disturbed when he discovers the town's secret, and the town discovers one of his. A new red-band trailer has hit, and you can check it out after the jump.
The new trailer suggests that Phil (Statham) could have avoided many of these problems by planning ahead just a little bit better. He probably should've done some more research on this town before moving there, or at least taken care to lock away his super-sensitive files once he arrived. Seriously, I think my old phone bills are better secured than Phil's DEA folder seems to be.
But then, it's not really his fault that Gator (Franco) is such a dick. Fleder describes Franco's character Gator Bodine on the film's Facebook page as "a really scary guy without being horribly violent," but he looks pretty happy to bash in kneecaps here.
Homefront opens November 27, 2013. Winona Ryder, Kate Bosworth, Frank Grillo, and Izabela Vidovic also star.
HOMEFRONT stars Jason Statham as former drug enforcement agent, Phil Broker, a family man who moves off the grid with his daughter, to a seemingly quiet bayou backwater to escape his troubled past. However, Broker's world soon becomes anything but quiet once he discovers that an underbelly of drugs and violence riddles the small town. Soon, a sociopathic methamphetamine kingpin, Gator Bodine (James Franco) puts Broker and his daughter in harm's way forcing Broker back into action in order to save his family and the town.