Kevin Feige Comments On Vin Diesel In 'Guardians Of The Galaxy', 'Ant-Man' Casting Rumors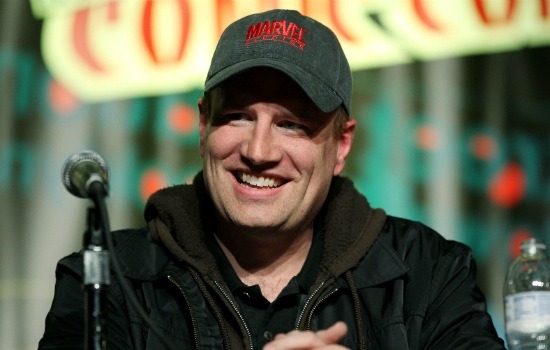 While promoting Thor 2 in London, Marvel Studios head Kevin Feige took a few minutes to chat about some other Marvel movies coming down the pipeline — namely, Guardians of the Galaxy and Ant-Man.
Although Vin Diesel's recent antics had fans assuming he was a lock for Groot in Guardians of the Galaxy, Feige clarifies exactly where the actor stands right now. Additionally, he comments on the Ant-Man speculation surrounding Joseph Gordon-Levitt and Paul Rudd — just as another new rumor suggests that Rashida Jones could play Ant-Man's lady love. Hit the jump for Feige's comments plus the latest buzz on the Wasp.
Feige was cagier when it came to the story about Gordon-Levitt being considered for Ant-Man (which Gordon-Levitt himself has denied). "Well, sometimes it's because we are legitimately talking, and sometimes it's just because he's a prominent actor out there now," he said cryptically. "And lots of rumors surround prominent actors."
Compare that to his statement about Rudd, said to be the other contender for the part: "Well, nothing is true yet. I like Paul Rudd, too." Rudd obviously isn't a done deal at this point, but Feige's comments suggest he's being considered, at the very least.
Meanwhile, another new rumor about Ant-Man has been making the rounds, and this time it's not about Ant-Man himself. According to Superhero Movie News, Rashida Jones is currently the favorite to play Janet Van Dyne (a.k.a. the Wasp, though she'll appear in non-superpowered form). The site claims that the information comes from the same source who told them back in November that Rudd was Edgar Wright's pick to play Hank Pym.
We're not too familiar with the outlet, so we'll caution you to take this with a grain of salt or a million. That said, if Rudd really is Ant-Man, Jones seems like a great choice to play the female lead. The pair have worked together numerous times, on Our Idiot Brother, I Love You Man, and NBC's Parks & Recreation.
Update: While there's no direct, explicit connection, after the rumor about Jones began to do the rounds, Wright tweeted this:
TFIHOI: The first I've heard of it.

— edgarwright (@edgarwright) October 18, 2013


Guardians of the Galaxy opens August 1, 2014. Ant-Man arrives July 31, 2015.