Rose Byrne To Reunite With 'Bridesmaids' Co-Star Melissa McCarthy For Paul Feig's 'Susan Cooper'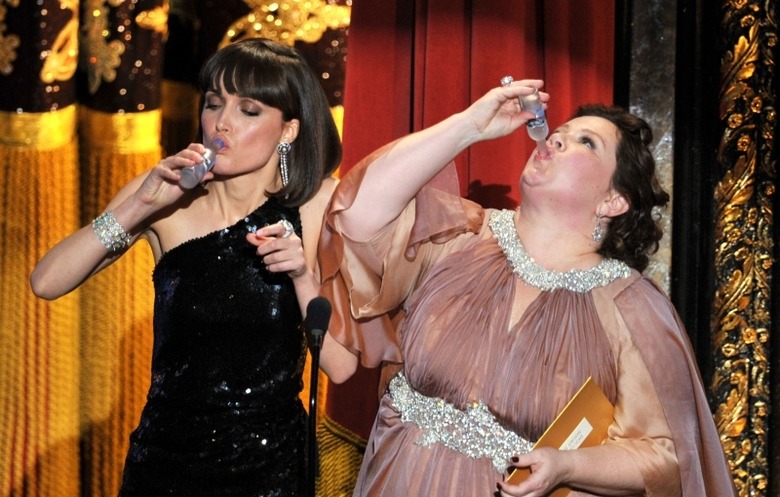 A Bridesmaids sequel isn't in the cards, but a Bridesmaids reunion could be. Rose Byrne has entered talks to re-team with her Bridesmaids co-star Melissa McCarthy and Bridesmaids director Paul Feig on Susan Cooper, a potential comedy franchise about a female James Bond type. More details on the upcoming project after the jump.
Susan Cooper is described as a "realistic" comedy (as opposed to a spy spoof) tonally similar to Feig and McCarthy's summer hit The Heat. Casino Royale has also been cited as an inspiration. Plot details are being kept under wraps, but it's reported to be a two-hander with franchise potential — also like The Heat.
McCarthy will play the title role, while Byrne's character has not been revealed. Jason Statham is said to be circling the project as well, but as of now nothing has been confirmed.
Feig wrote the script, and will produce through his Feigco Entertainment alongside Jessie Henderson. Daria Cercek will shepherd the project for the studio. Susan Cooper will shoot during McCarthy's hiatus from her CBS show Mike & Molly.
Byrne has found success jumping between genres over the past few years. She appeared this year in the generational drama The Place Beyond the Pines, the romcom I Give It a Year, the horror sequel Insidious: Chapter 2, and the aforementioned The Internship. Her next roles include a supporting turn in the musical Annie, and the comedies Neighbors and This Is Where I Leave You.
Feig has emerged as a champion for female-driven comedy, following massive success of 2011's Bridesmaids. He followed that up with The Heat, another big hit, and now seems poised to keep that streak going with Susan Cooper. Perhaps that's not such a surprise, though, seeing as he also gave us Freaks & Geeks' Lindsay Weir early in his career.