'Here Comes The Devil' Trailer: And That's Why You Don't Go Off Into Random Caves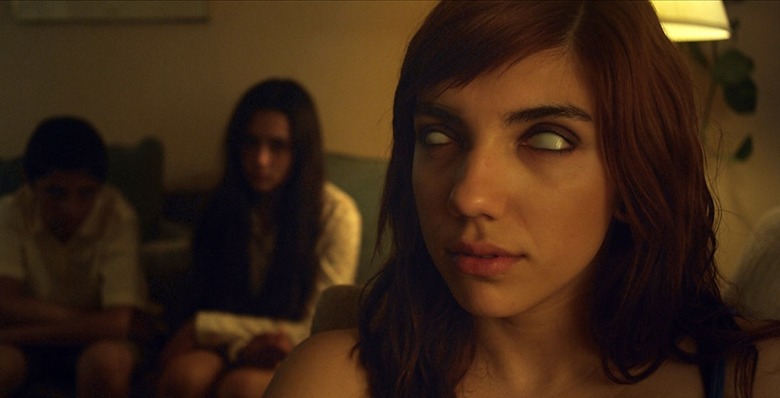 Is there a better time than Halloween season to unveil a trailer for a horror film? The studios apparently don't think so, as we've seen several hit this week alone. Devil's Due released its first promo yesterday, Paranormal Activity: The Marked Ones revealed a spot earlier today, and now comes Here Comes the Devil to try and make its own creepy mark.
Directed by Adrián García Bogliano, the thriller follows two kids (Michele Garcia and Alan Martinez) who go missing during a family trip to the caves of Tijuana. Though they eventually find their way back to their parents (Francisco Barreiro and Laura Caro), it quickly becomes clear that something terrible has happened to them. Hit the jump to watch the NSFW red-band trailer.
The trailer is not shy about sex and violence, and looks seriously unsettling. Fans of old-school horror will dig the retro feel, which also shines through on the poster below.
Here Comes the Devil premiered on the festival circuit last fall to mixed reviews. Some praised the movie's willingness to "delve into some legitimately unsavory places," and others found it to be "surprisingly mature," but detractors complained that it was "poorly made" and "amateurish." Adjust your expectations accordingly.
Here Comes the Devil hits on demand and in theaters December 13.
HERE COMES THE DEVIL combines modern indie filmmaking and storytelling with a hint of '70s-styled psychological horror that may not just be psychological. Francisco Barreiro and Laura Caro play parents Felix and Sol whose preteen son and daughter inexplicably reappear after being lost overnight on a desolate, cave-riddled mountainside after a casual hike became every parent's nightmare. The good luck and good fortune of their return soon changes, as the children's behavior suggests ominous and unspeakable events the night the children were lost that continue even now. As a loving couple – and loving parents – try to care for and protect their children, the ancient and half-whispered legends around the caves and the mountain and those who have gone there before become too strange to believe...and too dangerous, no matter how insane, to ignore.