Chris Pratt Says Rocket Raccoon Is "Probably The Best Character" In 'Guardians Of The Galaxy'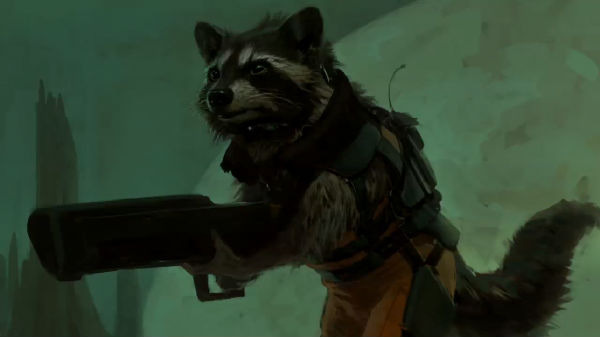 The runup to big reveals from Marvel's upcoming Guardians of the Galaxy, which recently wrapped its main shoot with James Gunn at the helm, is that we have only a vague idea of how some of the film's ideas will come to life. We saw a reel at Comic Con that gave us a good sense of the comic adventure tone, but then there are some pretty wild elements. There's the tree-man-alien Groot, voiced by Vin Diesel, whose only line in the film is "I am Groot."
Then there's the gun-toting Rocket Raccoon. Bradley Cooper voices the critter, but he's not a merely meant as a cuddly ploy to drive merchandise sales. He's an angry one, according to Guardians star Chris Pratt, and possibly the best character in the film.
Pratt told Access Hollywood:
You think it's a cartoon character, but it's not, it's a very real creature. [Rocket Raccoon has been] tortured his whole life and no one else likes him, so he's lonely and he's angry and it's like, [there are] all these elements [to the character]. You sort of forget about that, you wouldn't think about, [and] hopefully will come to life. I think it will and that's why they hired a really good actor to do the role. I could not be more excited that Bradley Cooper is voicing Rocket Raccoon. It's a great character. It's probably the best character in the movie, just because it's not what you would expect.
That's not unlike what Gunn said about the character a while ago:
It's not about creating Bugs Bunny in the middle of The Avengers. It's about creating a character that's a little animal that's taken and experimented on, pulled apart and put back together again and implanted with cybernetics. He's half machine and half raccoon and he's a little gnarled, miserable pretty angry creature because there's nothing else like him and that's not easy to be.
Guardians of the Galaxy is set for release on August 1, 2014. It also stars Dave Bautista, Zoe Saldana, Michael Rooker, Ophelia Lovibond, Benicio Del Toro, Lee Pace, Karen Gillan, Djimon Honsou, Gregg Henry, Glenn Close and John C. Reilly.