First Look: 'Mr. Peabody & Sherman' Go Way Back In Their WABAC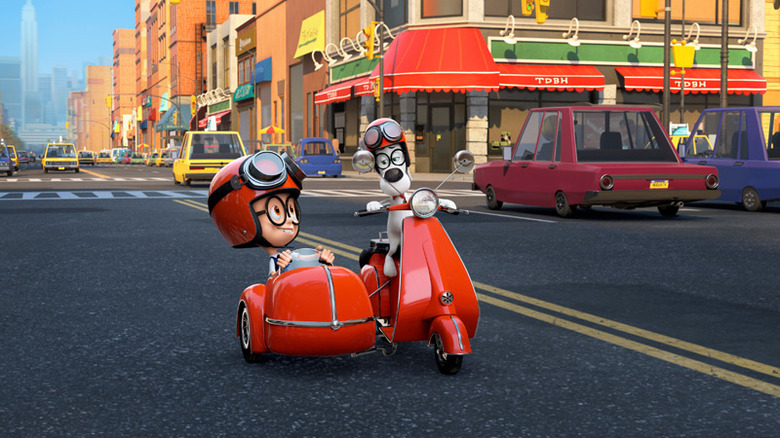 If each human year is equivalent to seven dog years, that makes Mr. Peabody, who first appeared in the Rocky and Bullwinkle Show around the late '50s, nearly 400 years old. Given that, he looks pretty damn great in these new stills from DreamWorks' Mr. Peabody & Sherman. There's nothing like a shiny CG makeover to make one feel young again, apparently.
The film sees the brilliant canine (voiced by Ty Burrell) and his kid companion (voiced by Max Charles) traveling through time in their WABAC (pronounced "way-back") machine. Along for the ride is Penny (voiced by Burrell's Modern Family co-star Ariel Winter), a classmate of Sherman's who gets under his skin. Check out the first-look images after the jump.
In the new film, Mr. Peabody, Sherman, and Penny get the ultimate history lesson by hurtling across time, witnessing iconic events and meeting famed figures like Leonardo da Vinci (Stanley Tucci).
"The latest technology is that Mr. Peabody has combined time travel with flight," explained director Rob Minkoff (The Lion King). "You can you actually fly through a wormhole into your historical destination, then fly the craft around once you are there. It's a little 2.0."
But once they arrive in ancient Egypt, Penny decides she likes it there so much that she wants to stay — a decision that threatens to irreparably alter the course of history forever.
Despite the sci-fi trappings, however, Mr. Peabody & Sherman is a family story at heart. The pair's close bond is tested when Sherman heads off to school, meeting outside influences like Penny. The dog, who's so smart that da Vinci recognizes him as an equal, realizes that parenting is in some way the biggest challenge of all.
Mr. Peabody & Sherman opens in 3D on March 7, 2014. Stephen Colbert, Leslie Mann, Allison Janney, and Lake Bell also lend their voices to the animated adventure.
Mr. Peabody (voiced by Ty Burrell, Emmy Award® Winner -Modern Family) is a business titan, inventor, scientist, gourmand, two-time Olympic medalist, and genius... who also happens to be a dog. Using his most ingenious invention, the WABAC machine, Mr. Peabody and his adopted boy Sherman (Max Charles -The Amazing Spider-Man) hurtle back in time to experience world-changing events first-hand and interact with some of the greatest characters of all time. But when Sherman breaks the rules of time travel, our two heroes find themselves in a race to repair history and save the future, while Mr. Peabody may face his biggest challenge yet – being a parent.