'Devil's Due' Trailer: What To Expect When You're Expecting A Demon Spawn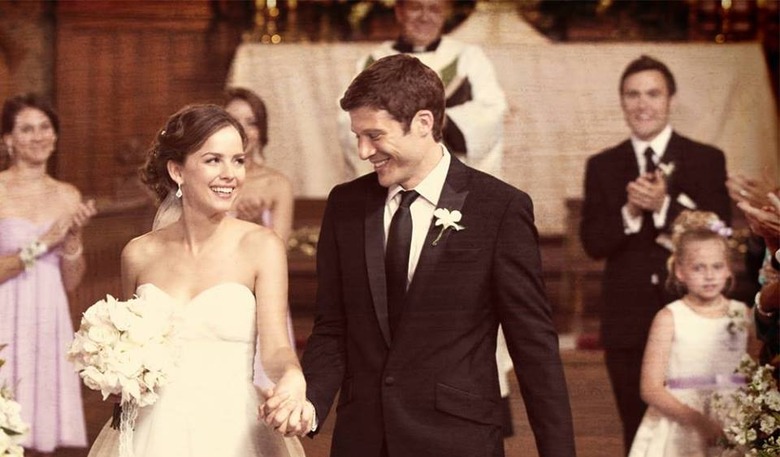 As a Friday Night Lights fan, I want nothing more than for Zach Gilford to live happily ever after. And for a while the Devil's Due trailer makes it look like that's exactly where he's headed. He's just gotten hitched to a beautiful woman (Terra Nova's Allison Miller), and she's just gotten pregnant, and Etta James' "At Last" is playing, and everything's great.
But her pregnancy comes with complications, and not the usual medical kind. These are of the more Satanic / paranormal variety, it seems. Think Rosemary's Baby filtered through the found footage format or, if you're feeling less charitable, Hell Baby with a straight face. Watch the trailer after the jump.
The concept is unoriginal and the scares are nonexistent (at least in this trailer), but the least appealing thing about this project may be the found-footage conceit. Maybe the choice makes more sense in the context, but from here there doesn't seem to be a single reason this needs to be done in that overused format.
Especially since this looks like one of those movies in which everyone keeps filming long after any sane person would have stopped. Who wields a camera while his wife is having a breakdown, or while she's bleeding profusely, or while they're being attacked in the forest?
Devil's Due opens January 17, 2014. Matt Bettinelli-Olpin and Tyler Gillett (known for their V/H/S segment "10/31/98") direct from a script by Lindsay Devlin and Zoe Green. 
After a mysterious, lost night on their honeymoon, a newlywed couple finds themselves dealing with an earlier-than-planned pregnancy. While recording everything for posterity, the husband begins to notice odd behavior in his wife that they initially write off to nerves, but, as the months pass, it becomes evident that the dark changes to her body and mind have a much more sinister origin.