Vin Diesel Only Has One Line Of Dialogue In 'Guardians Of The Galaxy'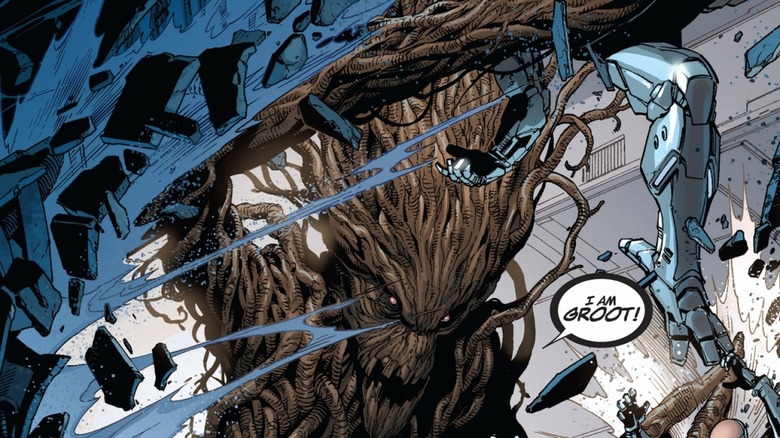 Vin Diesel has spent his downtime on the Fast & Furious 7 set getting ready to play Groot in Guardians of the Galaxy, but it seems memorizing lines isn't a big part of that prep. While the sentient tree is a key member of the intergalactic team, he's not much of a talker. As a matter of fact, he only says one thing: "I am Groot."
Still, Diesel insists that while his Groot isn't much of a talker, he wants to make that single phrase count. Hit the jump to see Diesel talking about and preparing for his big Marvel role.
My father taught me there are no small roles, only small actors. I have one line in the movie, but that doesn't mean anything. I'm still going to make it the best thing I possibly can. Even if it means taking Andy Serkis to a whole other level, which is what we wanna do with our motion capture.
The fact that Groot only says one thing shouldn't be a surprise to anyone familiar with the character. He's not any more of a chatterbox in the original comics. And the very game Diesel seems eager to throw himself into this role, even if it isn't a dialogue-heavy one.
The reveal that Diesel would be voicing Groot came as a slight disappointment to fans who'd hoped to see him play a bigger part in the Marvel universe, but the actor has since clarified that Groot is just the beginning.
Diesel originally met with Marvel about a "fresh IP" (intellectual property) to hit screens in 2016 as part of Phase Three, and according to Diesel, those plans are still in the works. Groot, he said, was just a way to appease fans demanding more Diesel right now. What that other project is, however, we don't know yet.
Guardians of the Galaxy is being directed by James Gunn, and stars Chris Pratt, Zoe Saldana, Dave Bautista, Lee Pace, Benicio del Toro, and Djimon Hounsou. Bradley Cooper voices Rocket Raccoon. The film hits theaters August 1, 2014.