First Look At Sharlto Copley In 'Oldboy', Plus 20 Posters For 20 Years Of Captivity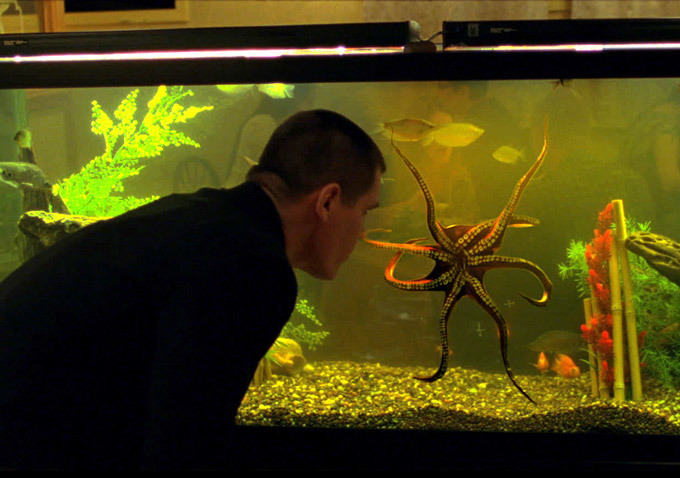 As fascinating as Josh Brolin's fierce Joe Doucett is, a story as dark and twisted as Oldboy needs a good villain to really tie everything together. So far, FilmDistrict has been playing coy with Joe's demented tormenter, but that changes today with our first peek at Sharlto Copley as Adrian Pryce.
In addition, the marketing team has also revealed twenty more posters, one for each year of Joe's captivity. They're a great way to drive home just how long twenty years is — and a good reminder of how quickly we're growing old. Has it really been two decades since Lorena Bobbitt chopped off her husband's dick? Check 'em all out after the jump.
This picture seems like the perfect introduction to Adrian, really. It doesn't reveal many specifics about the character, but the massive scar across his torso indicates that he has some extremely messed-up stuff in his past.
And here are the twenty posters. Each poster places a photo of a current event from its year alongside a picture of what Joe was doing that year. The news items are a mix of major world events (9/11, Hurricane Katrina) and smaller but still significant moments (OJ Simpson, the New York Rangers).
[Facebook via The Playlist]
I might have gone with "Chan-wook Park releases Korean cinema classic Oldboy" for Year 11 a.k.a. 2003, but of course FilmDistrict wasn't going to go that route.
Overall, the studio marketing team has really been firing on all cylinders. Oldboy is a dark, dark film — or at least the Korean original is, we don't know yet about Spike Lee's remake — and FilmDistrict seems to be having a lot of morbid fun with it. These posters are stylish and striking, and do a great job of putting Joe's predicament into perspective.
Oldboy opens November 27.
OLDBOY is a provocative, visceral thriller that follows the story of Joe Doucette, a man who is abruptly kidnapped and held hostage for 20 years in solitary confinement, for no apparent reason. When he is suddenly released without explanation, he begins an obsessive mission to find out who imprisoned him, only to discover that the real mystery is why he was set free.