Relativity Not Making 'Stretch Armstrong' Either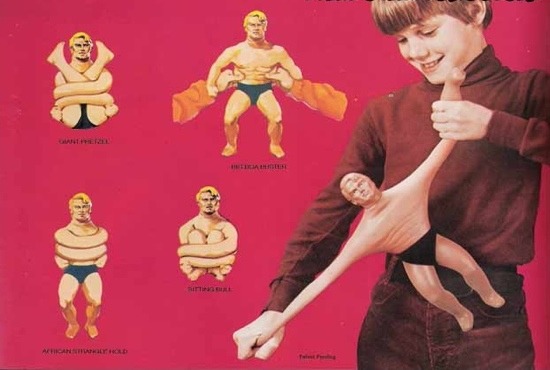 Peter called the developing Stretch Armstrong movie the "worst idea ever" when he reported on it in 2009, and now it seems Relativity's come around to his point of view. The studio has just announced the cancellation of the long-gestating project, nearly two years after Relativity plucked it out of Universal Studios' dustbin. More latest on the movie that never was after the jump.
Stretch Armstrong first began developing at Universal in 2008, shortly after the first Transformers sparked the current trend of toy-based action movies. Universal had just struck a deal with Hasbro to turn several of its properties into movies, including Battleship, Candy Land, Clue, Monopoly, Ouija, and of course, Stretch Armstrong.
But Stretch Armstrong failed to gain traction there, despite having Taylor Lautner set for the title role. So Universal eventually ditched it altogether, and Relativity scooped it up in early 2012. They quickly set a release date of April 11, 2014 and hired Dean Georgaris to write and Breck Eisner to direct, but the film never entered production.
While Relativity's exit is a huge blow for the project, Hasbro hopes it won't be a fatal one. "Stretch Armstrong is an incredible character who will make an amazing movie, and we have a number of new ideas that we are actively pursuing," said a spokesperson for the toy company.
The development may be an even bigger speed bump for the toy-movie trend. The Transformers and G.I. Joe franchises are still chugging along, and next year's The Lego Movie looks pretty promising. But Battleship was a costly, high-profile failure, and none of those other Hasbro board games have made it to theaters. We surely haven't seen the end of all toy-related movies, but studios seem far less enthused about the idea than they used to.
For now, at least the rubbery hero has one big-screen appearance coming up. The toy makes a cameo in The Secret Life of Walter Mitty, Ben Stiller's fantasy drama due out Christmas Day.