Cool Stuff: 'Crazy 4 Cult' "Say Hi To The Bad Guy" Art Exhibit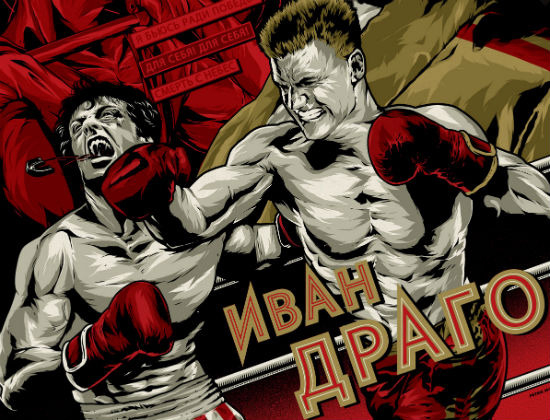 The roots of most of the pop culture art companies and galleries out there today can be traced back to Crazy 4 Cult at Gallery 1988. The annual Los Angeles art show has been going on for the better part of a decade and is credited with sparking the imaginations of artists, fans and fellow curators alike to blend art and fandom. These days, there's a similar exhibit happening almost every single week but Gallery 1988 did it first.
For their latest Crazy 4 Cult, they've changed things up a bit. This year is subtitled Say Hi to the Bad Guy, meaning all the art in this year's show will be of famous movie and television villains. Such as the Ivan Drago from Rocky IV, seen above.
The show opens October 18 in Los Angeles. Below, check out a bunch of art from the exhibit including a slew of exclusive debuts.
Crazy 4 Cult: Say Hi to the Bad Guy opens from 7-10 p.m. October 19 at Gallery 1988 West, 7308 Melrose Ave., Los Angeles. It'll then remain on display through November  9. Visit www.gallery1988.com for hours and contact info.
Here's a bunch of art from the exhibit. Mouse over each for the artist and subject.
If you can't make it to the opening, most of the art will go on sale at Gallery1988.com on Saturday the 19th. Follow @Galleries1988 for info.