First Look: 'Avatar Land' At DisneyWorld's Animal Kingdom [Updated With Video]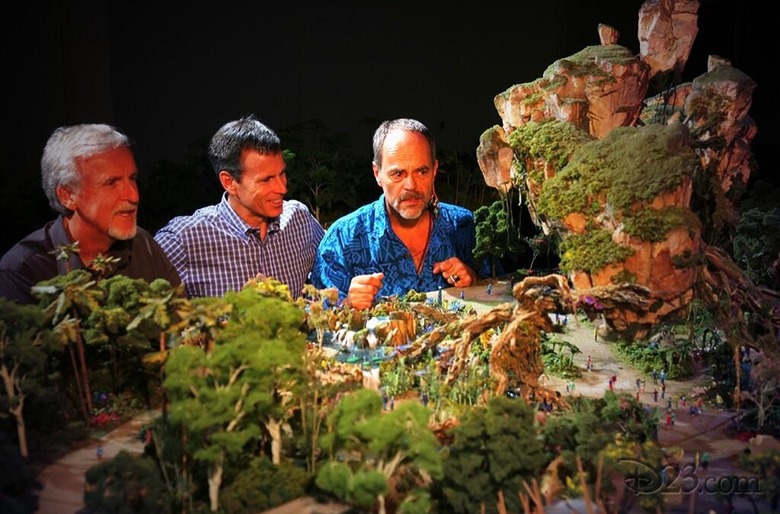 Update: Disney has revealed a 2017 projected opening date for the land. All three Avatar sequels are scheduled to begin shooting next year simultaneously, and the announced release date for Avatar 2 is currently December 2016. So it looks like the new land will be ready to promote the third and fourth films, and possibly the home video release of the sequel.
Update #2: A video is now available featuring James Cameron, who describes the creation of Avatar Land. Watch it at the bottom of the post below.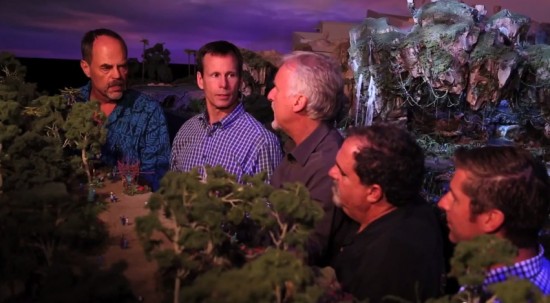 After years of radio silence, Disney has finally released new details and a first look at James Cameron's Avatar Land, coming soon to DisneyWorld's Animal Kingdom park in Orlando Florida. The preview was done at the first-ever D23 Expo in Japan, and some of the images are now online. The photo above features James Cameron, Walt Disney Parks & Resorts Chairman Tom Staggs and Imagineer Joe Rohde looking at a model of the upcoming land. See concept art photos and learn more after the jump.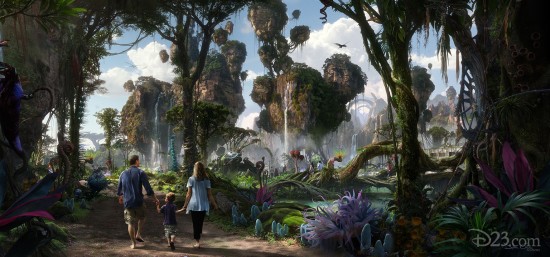 Here are details on the new Avatar Land addition:
Our combined team has taken huge steps forward in "imagineering" Pandora as a real place for our guests to see, hear and touch. As these concept renderings show in epic scale, in the world of AVATAR guests will encounter awe-inspiring floating mountains and wander through a nighttime jungle of bioluminescent plants that are alive with light and sound. Guests will also discover what it feels like to soar into the sky riding a Banshee.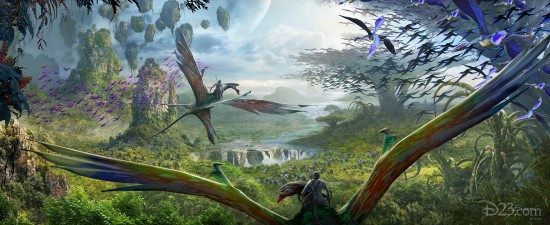 So this confirms two rides and a walk-through experience for the new land:
A Pirates of the Caribbean-like water ride (although its unclear if its an indoor dark ride like Pirates or an outside experience like Jungle Cruise).
And a flying simulator ride which will let guest "discover what it feels like to soar into the sky riding a Banshee." Could this be a retheming of Soarin (which is already in Disney's California Adventure and Florida's Epcot parks) or an entirely new ride system?
A walk through a bioluminescent jungle experience.
Outside Avatar Land, the Tree of Life will be transformed into the "Mother Tree" from Avatar at night using electronics and light projections during a new nighttime spectacular experience.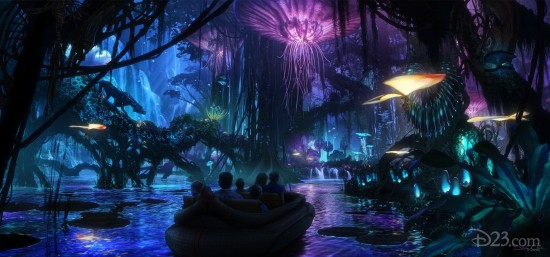 Seems like it will be a must to experience this new land at night time, which means Animal Kingdom will be forced to expand their hours past sunset.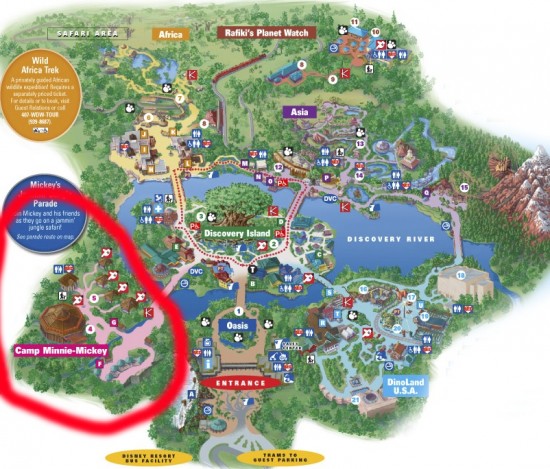 As for the location, D23 provides the details:
"The new Avatar-themed land will be located between Africa and the Oasis and will encompass and expand beyond the area currently known as Camp Minnie-Mickey. The Festival of the Lion King is moving its tribal celebration to an all-new theater in the Africa section of the park."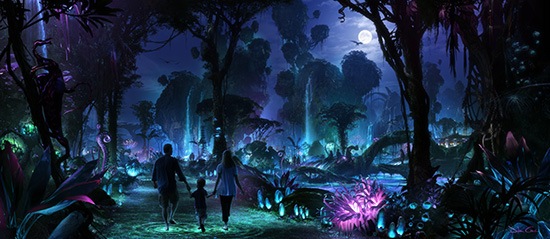 The land will also feature floating mountains which will probably use a much better version of the illusion that LEGO Land Florida employed for their recently opened World of Chima. See a video clip from that park below:
I'm very excited to see Avatar Land in person,
but they have yet to announce a date for completion (or even a start of construction for that matter).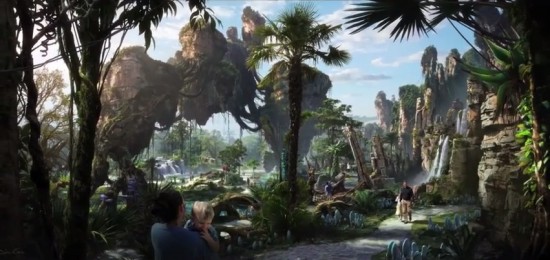 Not only that, but the Mouse House has confirmed plans to further expand the park in addition to the new Avatar-themed land, calling it "the largest expansion in the history of the park."
The new expansion will include "all-new entertainment experiences, including a new nighttime spectacular where live music, floating lanterns, water screens and swirling animal imagery all combine to bring a show to Discovery River that will delight our guests and truly cap off their day at Disney's Animal Kingdom. The park will introduce more nighttime entertainment as well, including live performers on Discovery Island (pictured below) and a new nighttime version of the Kilimanjaro Safaris"
Here's the video featuring James Cameron:
And more photos: