Kyle Chandler Is Holding Up The 'Friday Night Lights' Sequel, Says Connie Britton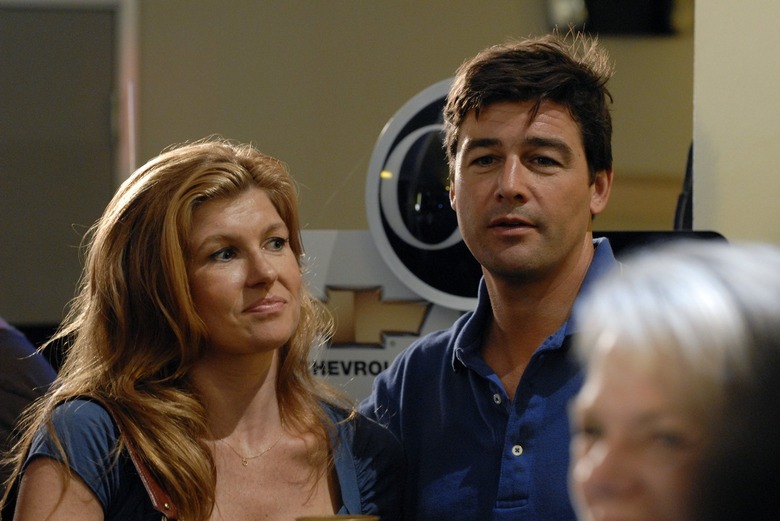 It wasn't long after Friday Night Lights concluded its fifth and final season in 2011 that word spread of a possible movie sequel. But despite the active interest of series creator Peter Berg, producer Brian Grazer, and stars including Connie Britton and Adrianne Palicki, actual progress has been mysteriously slow. Now we know why.
According to Britton, Kyle Chandler has no interest in reprising his role. That's a pretty big hurdle, seeing as his Coach Eric Taylor is the main character. Hit the jump to read her comments.
Cohen picked up where she'd trailed off. "He thinks you did it already."
"Well, and he has a point," Britton conceded. "And we would only do it if it was going to be a great movie. That's the thing."
Chandler's reluctance to do the sequel isn't really news. "They ended it at exactly the right time, and exactly the right way as well," he said last year. "I'm so happy [with the ending]." However, this is the first confirmation we've gotten that he is indeed the holdup.
Moreover, it's not really like Chandler needs more Friday Night Lights. His career has taken off since the show ended, with roles in buzzed-about films like Argo, Zero Dark Thirty, The Spectacular Now, and the upcoming The Wolf of Wall Street, and is set to star in Showtime's drama series The Vatican.
Discuss: Do you want more Friday Night Lights? Personally, I'm team Chandler on this one. Friday Night Lights lasted five seasons — pretty impressive for a show that teetered on the brink of cancellation for its entire duration — and closed on a pitch-perfect note. I don't see much point in returning again and again to diminishing returns.