Fourteen Orgasmic Character Posters For Lars Von Trier's 'Nymphomaniac'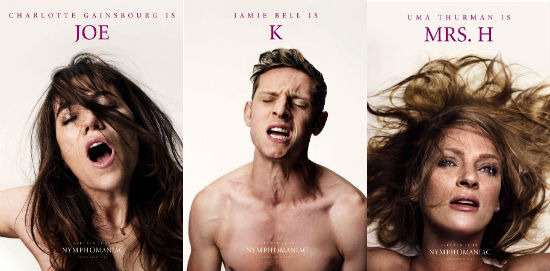 All you have to say is "Lars von Trier sex movie" to get someone interested in Nymphomaniac. The controversial director has told many visceral and beautiful stories over his career, often with a great sexual frankness, that the idea of him making full movie about sexuality just screams "potential."
Speaking of screaming, fourteen character posters for the film have just been released that are sure to make even more people excited about the film. They show the film's stars — actors as Shia LaBeouf, Jamie Bell,  Uma Thurman, Willem Dafoe, Stellan Skarsgård, Christian Slater, and Charlotte Gainsbourg – in their most intimate moments. I believe on The League they call it "Vinegar Strokes," the moment right before, and during orgasm. Check out these provocative posters below.
Nymphomaniac will be released in the U.S. in early 2014.
Lots of funny, sexy, and interesting looks here with one exception: How does Shia LaBeouf get off simply smoking a cigarette in his poster? I get the post-coital connotation but everyone else looks so vulnerable.