'Saw' Scribes To Pen Disney Movie 'Stuff Of Legend'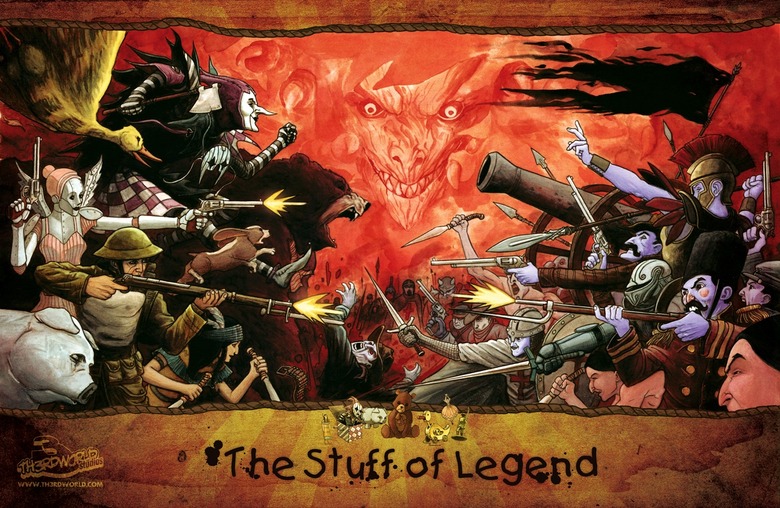 The twisted minds behind Saws IV, V, VI, and 3D are ready to bring some fun to the whole family. And no, that isn't a sick way of describing the next Saw plotline.
Writers Patrick Melton and Marcus Dunstan have signed on for Disney's The Stuff of Legend, a fantasy-action film about heroic toys involved in an unseen war. Music video and commercial director Pete Candeland has been attached to direct since last year. Hit the jump for plot details and more.
Melton and Dunstan seem like rather unlikely replacements. In addition to the Saw movies, their credits include the Feast trilogy, The Collector and its sequel The Collection, and Piranha 3DD — all R-rated horror films. The kid-friendly The Stuff of Legend marks quite a change of pace for them.
On the other hand, their genre experience should come in handy when it comes time to write the plot's spookier moments. Here's a synopsis of the comic book:
The year is 1944. An allied force advances along a war-torn beach in a strange land, outnumbered and far from home. Together, they fight the greatest evil they have ever known. Never ending waves of exotic enemies come crashing down on them, but they will not rest. Thousands of miles away, the world is on the brink of destruction. But here in a child's bedroom in Brooklyn, our heroes, a small group of toys loyal to their human master, fight an unseen war to save him from every child's worst nightmare.
Led by the toy soldier known as the Colonel and the boy's faithful teddy-bear named Max, the toys enter the realm known as The Dark. There they will face off against the Boogeyman and his army– a legion of the boy's forgotten, bitter toys. Fighting to survive insurmountable odds, the toys will discover this is a battle not only for the soul of a child, but for their own as well...